See Our Patient Results
The Center for Cosmetic Surgery
725 Heritage Road #100
Golden, CO 80401
Phone: (303) 278-2600
Monday-Friday: 8 a.m.-5 p.m.

The Center for Cosmetic Surgery
501 South Cherry Street #900
Denver, CO 80246
Phone: (303) 951-2100
Monday-Friday: 8 a.m.-5 p.m.

Case #467
*Keep in mind that each patient is unique and your results may vary. Photos in our online gallery are of actual patients of our practice who have provided consent to display their pictures online.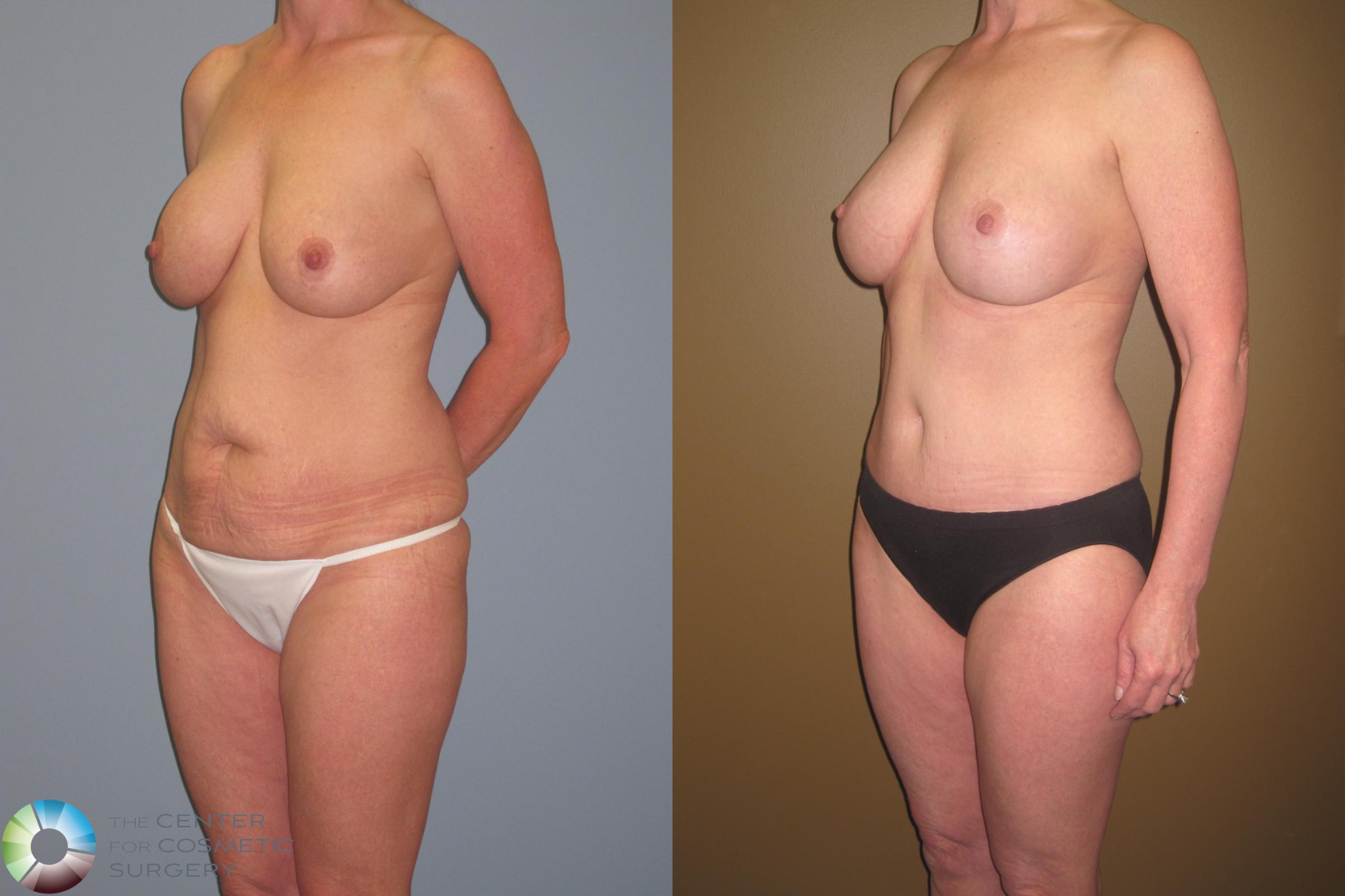 Before / After

This is a 52 year old, 5'3", 120 pound woman who underwent a mommy makeover which included a breast implant exchange with scar tissue (capsule) removal, breast lift, tummy tuck, and liposuction to her hips. 26 years prior to this surgery, she had undergone a breast enhancement with a circumareolar breast lift. She presented to Dr. Vath complaining of an ugly breast shape with hardening of her implants. She also wanted a tighter, more attractive tummy contour.
The patient had capsular contracture around both implants (thickening and hardening of the scar tissue that the body deposits around the implants). This was treated with capsulectomies which is the removal of the scar tissue to allow for soft breasts after reimplantation of new implants. She also had sagging of her breast tissue requiring a mastopexy (breast lift) to achieve a beautiful shape. She chose 210cc silicone implants to go along with her capsulctomies and mastopexy procedures.
She also underwent an abdominoplasty with some liposuction on her hips to create a flatter, tighter, and prettier tummy. Post-operative pictures are from 7 months after surgery. Although the scars are already lightening nicely, they will continue to fade over the first two years after surgery.
Back to Top