Meet Dr. Steinwald
Paul M. Steinwald, MD, is a highly accomplished, top plastic surgeon in the Denver, Colorado, area. He is also a warm and approachable doctor who is dedicated to personalized care and natural-looking results.
Education and Experience
Dr. Steinwald has pursued educational excellence throughout his life, attending Dartmouth College and then Tulane University School of Medicine, where he graduated near the top of his class. He thereafter completed comprehensive university-based training in both general surgery and plastic surgery on both coasts. Since 2000, he has accumulated many years' worth of experience performing a wide variety of modern cosmetic surgery procedures, including several areas of specialization that he himself has pioneered, and for which he is widely recognized (see below).
Dr. Steinwald's ultimate goal is to deliver an experience and outcomes that exceed patients' expectations, in what is often a thrilling and life-enhancing endeavor.
You can also read what our patients are saying about Dr. Steinwald on his reviews & testimonials page.
Plastic Surgery Is "In His Blood"
Dr. Steinwald is actually a second-generation plastic surgeon – and ultimately learned a lot from his father, with whom he was in practice for over five years at the beginning of his career – but was drawn to plastic surgery later in his medical education, through his own discovery of the field's challenging variety and reward for attention to detail. "I recognized that this was one of the very few fields in medicine that would allow me to use my head, heart, and hands in such equal measure, as well as allow me to pursue optimal, appreciable results." Dr. Steinwald finds it very fulfilling to see the results of the many thoughtful decisions and executions that go into each and every case he performs.
There for You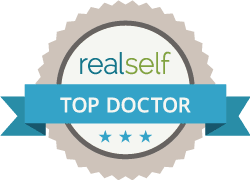 Dr. Steinwald truly believes in treating every patient like a friend or family member and making sure they feel safe, comfortable, and heard during every phase of their surgical journey. "My approach is to listen to what prospective patients would like, determine their candidacy through careful assessment, and ultimately partner with my patients to educate and empower them regarding their best options. I then strive to apply the safest, most effective techniques available in a very focused, result-driven fashion and see my patients through a successful recovery, so that they may enjoy a more confident and fulfilling life moving forward. It is a distinct honor and privilege to be central to this process."
Traditionally Innovative
Dr. Steinwald trained in plastic and reconstructive surgery at the renowned UCSF program in San Francisco, CA, and believes in utilizing predictable, proven surgical techniques that reliably deliver soft, natural results. He remains circumspect about the "latest and greatest," most marketable modalities, often promoted by companies rather than surgeons. That said, he has innovated several newer techniques (especially with respect to "FTM/Top Surgery" chest masculinization procedures) based on sound plastic surgery principles, which have proven very safe and effective over many years, and for which patients visit Dr. Steinwald from all over the United States (and even abroad).
Bringing It All to Denver
Dr. Steinwald was recruited to join The Center for Cosmetic Surgery in 2014, in recognition of his numerous achievements, as well as his compatible surgical style and personality. Previously, he ran a highly successful solo plastic surgery practice on Chicago's North Shore in Lake Forest, IL starting in 2000, and served as Vice-Chair of the Department of Surgery at Northwestern Lake Forest Hospital from 2007 to 2014. He and his wife decided to make the move to Denver when it became apparent that he would be able to deliver plastic surgery excellence to his patients even more effectively, in a beautiful, accredited facility with two of Denver, Colorado's finest plastic surgeons, its dedicated and supportive staff. The Steinwalds (who now have three daughters) also were drawn to the healthy environment and inspiration of the nearby mountains, and therefore were quite excited to have been invited to join The Center for Cosmetic Surgery family.
Professional Accomplishments
He is certified by the American Board of Plastic Surgery (ABPS) and is a member of both the American Society of Plastic Surgeons (ASPS) and The Aesthetic Society (formerly ASAPS).
---

---
For more on Dr. Steinwald's credentials, read his CV.
Personal Interests
Dr. Steinwald is a man of many outside interests and hobbies, including music, golf, travel, skiing, vintage instrument collecting, and the occasional marathon.