Tummy Tuck (Abdominoplasty)
2-3 Hour Surgery
Back to Work: 1-2 Weeks
At our plastic surgery practice serving Denver and Golden, Colorado, abdominoplasty (in our case, almost always without drains) is among our most frequently performed cosmetic surgery procedures. Often called a tummy tuck, this procedure is the choice of patients from Colorado Springs, Fort Collins, and surrounding areas in search of a flatter stomach and a tighter, slimmer abdomen. Ideal for the removal of loose, sagging skin and excess fat, tummy tuck surgery leaves behind a low, fine scar that can be easily hidden beneath the bikini line.
Tummy Tuck

Before & After Photos
WARNING:
This feature contains nudity. Please click OK to confirm you are at least 18 years of age and are not offended by such material.
Am I a Good Candidate for a Tummy Tuck?
An ideal tummy tuck candidate has excess abdominal skin and bowed, or lax, abdominal muscles, which are typically caused by pregnancy or weight loss. Good candidates also have a few things in common:
They are at or near their ideal weight.
They maintain a regular diet and exercise routine.
Skin and muscle laxity seem unaffected by workouts.
For these patients, a tummy tuck can both sculpt the waistline and repair weakened muscles in the abdominal wall. Some excess abdominal fat is removed, as well, but a patient with significant tummy rolls may want to consider liposuction. Patients who have both excess fat and skin may benefit from a combination of the 2 procedures.
What Is a Mini Tummy Tuck?
You may be familiar with the concept of a "mini" tummy tuck, which is a modified version of the traditional ("full") tummy tuck. Our surgeons perform the mini tummy tuck at our Denver practice using a slightly shorter incision. This procedure focuses only on the area below the navel, which is a common location for unwanted fat and skin to accumulate. While most patients require a full tummy tuck, certain patients may achieve satisfactory results by limiting the surgery to this area.
During your consultation, your surgeon thoroughly examines your abdomen and helps you determine if this approach is likely to give you the results you'd like.
How Is the Tummy Tuck Procedure Performed?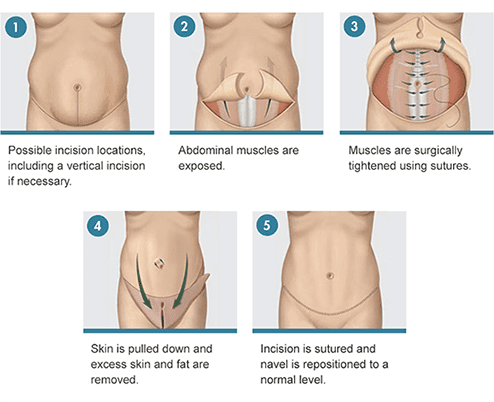 The tummy tuck procedure slims the waist and flattens the stomach by removing excess skin and tightening the muscles of the abdominal wall. During your procedure, the surgeon begins by making a horizontal incision along the lower abdomen. Depending on the extent of the tummy tuck, a slightly longer incision or an additional incision at the navel may be necessary.
In a traditional tummy tuck, fluid can accumulate in the "open space" that the procedure creates between the abdominal flap (the skin and fat) and the abdominal wall. Some surgeons insert drains to avoid this. Our surgeons perform a specialized "no-drain tummy tuck" that uses progressive tension sutures to essentially eliminate the open space, removing the need for a drain. Patients are unable to feel the sutures, and they dissolve over time. In addition to eliminating the need for drains, this form of suturing removes tension from the incision resulting in a very fine line scar when healed.
Combining a Tummy Tuck With Other Procedures
Many of our patients choose to combine their tummy tucks with other procedures. People who have lost a lot of weight often combine their tummy tucks with other body contouring surgeries. Another very common way to combine procedures is a Mommy Makeover, which adds liposuction and a breast lift or breast augmentation. This combination of treatments addresses the areas most commonly affected by pregnancy. Combining procedures is perfectly safe and is even recommended, as the patient can undergo just one anesthesia event and one recovery period. Additionally, there is typically a price reduction when procedures are combined.
Do I Need a Tummy Tuck or Liposuction?
As noted above, tummy tuck surgery is often combined with liposuction. But in some cases, patients may need liposuction or a tummy tuck, but not both.
When Should You Get a Tummy Tuck?
If your primary concern is excess abdominal skin—especially after pregnancy or significant weight loss—a tummy tuck is the correct approach. There is really no other way to get rid of loose skin in these situations.
When Should You Get Liposuction?
If your abdominal skin retains most of its elasticity—meaning it can "snap back" to fit new contours after surgeons remove fat—then you can probably benefit from liposuction alone. Liposuction can reduce the appearance of love handles and other stubborn pockets of abdominal fat.
In your initial consultation, your surgeon will examine your abdomen and provide a recommendation of whether a tummy tuck, liposuction, or both would produce better results.
How Long Is Tummy Tuck Recovery?
The recovery experience following a tummy tuck is unique for each patient. If you have a job that doesn't involve physically strenuous tasks, you can plan on returning to work 2 weeks after the surgery. Our surgeons can minimize discomfort during the first 72 hours after surgery by administering a non-opioid medication called EXPAREL® before suturing the incisions, if you choose. There is an additional cost for EXPAREL.
Even though each patient's recovery experience is unique, here's a general timeline of what you can expect:
Day of surgery: Once you've returned home, expect to feel sluggish and sore. You'll need whoever is staying with you to manage your medications, help you get into and out of bed, and ensure all of your needs are met.
First week  post-op: This is typically the most difficult part of the recovery. If you elected to have your surgeon administer EXPAREL during the procedure, the first 3 days will be more comfortable. Because our surgeons use the no-drain tummy tuck technique, there are no drain tubes to manage or remove later in the process. This technique also reduces discomfort and the risk of infection. Learn more about recovery in this blog post.
Week 2 post-op: By the end of week 2, you'll feel fairly normal and can probably return to work. You should still avoid any lifting, including small children. Muscle spasms are common for patients who have had their ab muscles tightened. It's important to take it easy for at least 2 weeks to give your body time to heal.
Weeks 3 to 6 post-op: During this time you'll gradually resume most of your normal activities. You should wear your compression garment for at least a month after the surgery. By week 4, you can lift your children, start exercising (but don't overdo it), and drive a car.
After 6 weeks post-op: The physical healing of the incisions is essentially finished, and you'll have no exercise restrictions. Your scars will still appear reddish but will continue fading throughout the first year.
How Swollen Will I Be After My Tummy Tuck Surgery?
You should expect to have noticeable swelling of the abdominal area after a tummy tuck; it's a normal part of the healing process. While the puffiness may detract from your intended results and not be comfortable, these side effects are temporary. Within 2 to 4 weeks, the swelling should be noticeably diminished, but it will take several weeks for the swelling to dissipate completely. Wear your abdominal compression wrap diligently as directed to keep swelling to a minimum and encourage smooth, firm contours as you heal.
How Long Does the Tightness Last After a Tummy Tuck?
It is normal for the abdomen to feel tight after tummy tuck surgery. This tight feeling gradually diminishes within a few months of surgery as the initial swelling decreases, tightened abdominal muscles relax, and your body readjusts to the new shape of your midsection.
When Can I Exercise After a Tummy Tuck?
Even on the day of your surgery, it's very important to get up and move around a bit because it prevents blood clots and encourages your body to heal more quickly. Resuming normal activity is more gradual. Most patients can resume light activity after 10 to 15 days. You will need to hold off on strenuous activity, including ab exercises, until at least 6 weeks after your tummy tuck. Learn more in this blog post.
Keys to Attractive Tummy Tuck Results
Placing the incision low for an inconspicuous scar.
Because the length of the incision required by a typical tummy tuck can extend from hip to hip, it's imperative that the surgeon places it as low as possible on the abdomen and uses a meticulous technique to ensure a smooth healing process.
Although the resulting scar will not fully disappear, with proper aftercare, it can fade and flatten significantly until it's quite hard to see. As with any other surgical procedure, abdominoplasty patients should be careful to avoid exposing their incisions to sunlight until they're fully healed.
Selectively using liposuction to "blend" the abdomen with the hips.
Tummy tuck surgery isn't simply a matter of removing excess skin. For natural-looking, aesthetically pleasing results that last, you need careful shaping and smoothing of the entire torso. This often includes selective liposuction of the flanks, hips, and other areas to reduce fat and sculpt the improved abdomen along with the rest of the body. This creates an overall improved appearance that matches your own natural proportions and contours.
Paying special attention to the navel.
Rebuilding and improving the navel is an integral part of the abdominoplasty procedure. A normal belly button blends with the rest of the abdomen, with a natural-looking "funneled" appearance that you feel comfortable showing off. Abdominoplasty does require a small incision made within the navel, but careful sculpting and reshaping of the area create an attractive appearance that's neither too taut nor too round — a perfectly natural-looking dimple.
A Reputation Built on Results
I can't say enough positive things about this practice. The staff and Dr Freeman are fantastic, I appreciated...
I had top surgery with Dr.Steinwald and I couldn't be happier with my results. Everyone I interacted...
Dr Vath and his entire staff are extremely knowledgeable, skilled, professional and supportive! Their...
DR. Freeman and the entire staff were helpful and wonderful, I highly recommend them
How to Choose a Tummy Tuck Surgeon
For optimal safety and results, it's important to choose your plastic surgeon carefully. Important guidelines include:
Review many impressive before-and-after photos.
Find a surgeon who specializes in cosmetic plastic surgery.
Seek a surgeon who upholds the proper credentials.
Make sure the surgeon uses only an accredited, state-of-the-art surgical facility.
Decide if, upon meeting the surgeon, you make a connection.
Our Exceptional Plastic Surgeons
Our experienced plastic surgeons Dr. Steven Vath, Dr. Andrew Wolfe, Dr. Paul Steinwald, and Dr. Matthew Freeman, and the newest member of our team Dr. Teresa Cunningham lead our patient-centered practice with warmth, honesty, and respect.
Dr. Steven Vath
Dr. Andrew Wolfe
Dr. Paul Steinwald
Dr. Matthew Freeman
Dr. Teresa Cunningham
Important Truths About Your Tummy Tuck
Exercise will not flatten a tummy after pregnancy or weight loss. Although exercise can reduce tummy fat and strengthen the abdominal musculature, it does not flatten the muscles nor tighten lax skin. After aggressive workout regimens, women often find themselves frustrated over their inability to flatten their tummies stretched out from weight loss or pregnancy. Fortunately, an abdominoplasty manages these problems.
Drainage tubes are not generally not necessary after a tummy tuck. Except in rare circumstances, our surgeons do not employ drains with tummy tucks. Surgical drains are a source of discomfort and anxiety for many patients following a tummy tuck. In a traditional tummy tuck procedure, drains are used to prevent fluid accumulation in the "open space" created between the abdominal flap (skin and fat) and the muscle. Through the use of progressive tension sutures, our surgeons eliminate this space, as well as securely advance the flap with tension distributed over a broader area. Patients can not feel these sutures, so they are not even aware of their presence. After a few months, they dissolve, leaving no foreign material whatsoever in the body. This technique prevents seroma formation (fluid buildup) as there is no longer any space in which fluid can accumulate.
Liposuction is usually not needed to achieve the flattest results but is often used during the procedure to address excess fat in other areas such as the hips or thighs. This can be added very safely to improve the overall body contouring achieved during surgery. Liposuction is generally not helpful in creating the flattest abdomen during an abdominoplasty. The fat beneath the excised skin in the lower abdomen is completely removed with the skin. When indicated, some excess fat in the upper abdomen can also be trimmed to create a more even, thinner contour. Occasionally, if there are significant fat pockets over the lower ribs in the upper abdomen, liposuction of these areas can be helpful.
The benefits of a tummy tuck last indefinitely. The need for a tummy tuck is the result of an inflation and deflation of the abdominal tissues, usually from pregnancy or significant weight loss. Once a woman undergoes an abdominoplasty, the tummy will not stretch out again to any considerable degree unless there is another inflation and deflation. Therefore, it is fair to say that the results of a tummy tuck are permanent. Although the abdomen will slightly relax over time, there will not be the need or desire for another abdominoplasty.
Mini-tummy tucks are generally inadequate after pregnancy or weight loss. Many patients inquire about a mini-tummy tuck in hopes of minimizing their cost, recovery time and scarring. Good candidates for a mini tummy tuck are rare, as most patients with abdominal laxity are much better candidates for a full tummy tuck. With a mini tummy tuck, a much smaller area of skin is removed, and only the muscle in the lower abdomen is tightened. The skin around the belly button is not released from around the belly button, which prevents its tightening. The scar is somewhat shorter in length than that resulting from a full tummy tuck but not usually considerably different. Occasionally, a patient will come in for a consultation with mild, isolated lower abdominal skin laxity without any muscle laxity or loose skin around the umbilicus. In these cases, the mini may be appropriate.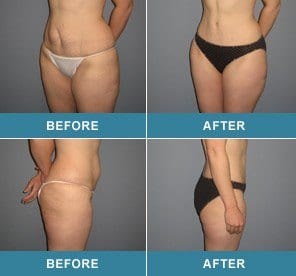 This is a 31-year-old, 5'6″, 160 lb. woman who, after having children, underwent a mini-tummy tuck at another facility. She presented to The Center for Cosmetic Surgery with complaints about her abdominal contour. She underwent an abdominoplasty procedure in order to address the areas that were not managed during the first operation. These include an incomplete flattening of the abdominal musculature, incomplete tightening of skin around and above the umbilicus, and an uneven, imbalanced overall tummy contour.
Abdominoplasty patients need not be ideal body weight. A woman need not be at an ideal body weight to get great results from a tummy tuck. Although losing weight prior to having plastic surgery can allow for a more attractive transformation, not everyone can reach ideal body weight. The majority of any planned weight loss should be shed prior to surgery. But once you've maximized your efforts, or stabilized, plastic surgery can be considered to manage tummy rolls or skin laxity, and stretched, separated abdominal muscles. Some of the most gratified patients are somewhat overweight prior to undergoing tummy tuck surgery. At The Center for Cosmetic Surgery, we believe that success after cosmetic surgery is measured by a patient's happiness with the aesthetic changes that can be safely accomplished- not the realization of some idealized, societal version of beauty.
A tummy tuck is not a weight loss operation; it is a body contouring procedure. Most patients lose less than five pounds after the removal of belly fat and skin. However, there is typically a marked change in their size and contour.
Identifying Good Tummy Tuck Results
The scar is precisely placed in a low position, hidden by small undergarments or a bikini. The scar from an abdominoplasty must ultimately reside in the perfect location. Preoperative planning and precise markings ensure that during closure of the tummy skin, the opposing forces of the upper and lower wound margins leave the scar at the bikini line. At The Center for Cosmetic Surgery, our surgeons pay close attention to creating a fine line, symmetrical scar in the most hidden location.
The belly button funnels inward in a natural, attractive fashion. The appearance of the belly button is critical to the overall natural beauty of a tummy after an abdominoplasty. During a tummy tuck, the belly button is released to allow the skin around and above it to shift downward and achieve an evenly tight and contoured look. When the belly button is inset into the new skin that has moved down over it, special care must be taken to give it a funneling, puckered appearance. Our surgeons use a technique of suturing the fat around the new hole overlying the belly button down to the muscle, delivering the surface skin down to the original umbilicus. This is distinctive from simply pulling the belly button up through the hole and sewing it in place, which creates a flat circle at the tummy surface and looks unnatural.
Feminine shape and contour to the flattened tummy is created. Through muscle tightening and the placement of sequential tension sutures, a nicely contoured, feminine abdomen is achieved.
No excess skin and fat (called dog ears) are left behind at the end of the scars leaving a smooth waist. Limiting scar length is a worthwhile goal, but not at the detriment of contour. The skin excision must be carried far enough to remove the proper amount of tissue and prevent puckers called dogears.
FAQ
Is a tummy tuck painful?
While abdominoplasty is major surgery, discomfort after surgery can be controlled with medication. Our plastic surgeons give patients the option of having EXPAREL® injected during surgery, which can control pain for the first 72 hours when the pain is typically the most significant. It's important to allow yourself plenty of time to rest after your procedure and always wear your compression garment to reduce swelling.
How long will I need to wear a binder after a tummy tuck?
Patients should wear their compression garment continuously (23 hours a day) for at least 6 weeks.
Will my belly button look normal after surgery?
Yes, our skilled surgeons will take special care in both the placement and stitching of your belly button to ensure the incision is thin and well hidden when healed. They also use a special technique to make the belly button funnel inward instead of lying flat along the surface of the tummy unnaturally. Proper incision care is important for the best outcome.
Will my belly button be moved during a mini tummy tuck?
No. The mini tummy tuck tightens lax abdominal skin starting at the belly button and ending at the pubic area, so the belly button stays in place.
What should I expect in terms of scarring?
In a tummy tuck procedure, the surgeon makes a horizontal incision along the bottom of the abdomen, from hip to hip just above the pubic area. The low placement is purposeful: It makes the resulting scar easy to hide under clothes, because it falls below the bikini line. Initially, the scar may feel hard or puffy. It will take up to 1 year to fully heal and fade. We can provide tips on scar care during your consultation.
Can you still gain weight after a tummy tuck?
While the fat cells removed during surgery are gone forever, those that remain can still expand; therefore, you can gain weight in other areas of your body if you don't maintain a healthy lifestyle.
Should I wait until I am done with having kids to have a tummy tuck?
We typically recommend that you be done with having children prior to undergoing a tummy tuck. We have had some patients that have not required additional surgery after a post tummy tuck pregnancy, some that have required a mini-tuck, and still others that have required a complete re-do. Unfortunately, there is no way to know what category a patient will fall into, so from a financial perspective, waiting is the smartest option.
A consultation with one of our plastic surgeons in Denver is the best way to determine whether a tummy tuck is right for you. You may request a consultation or give us a call at (303) 278-2600.