A Patient's Journey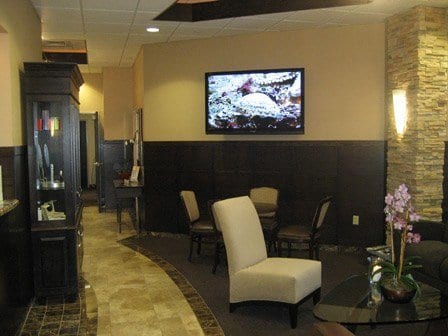 Whether you are seen for your initial consultation at our Golden Complex or in our satellite Cherry Creek location, you will be welcomed warmly and treated with respect and courtesy. It is our primary goal to make sure each and every interaction you have with our cosmetic plastic surgery office in Denver or Golden, Colorado, is a good one.
A Patient's Journey at The Center for Cosmetic Surgery
Your initial contact with our office will be with one of our friendly and informative patient managers. She will be able to answer any preliminary questions about the procedure(s) you are interested in and schedule you for a consultation at one of our conveniently located offices. After you have scheduled this consultation, you will receive an email to verify your appointment time and location and provide you with a link to print the new patient paperwork from our website to bring with you to the office.
Your Consultation Appointment
When you arrive for your appointment, you will be greeted warmly by one of our patient managers and she will see to it that you are comfortable as you wait to meet with one of our surgeons.
You will meet with your surgeon first in the comfort and privacy of his office. He will discuss at length the procedure(s) you are interested in, review before-and-after photos with you, and make sure that all of your questions and concerns are addressed.
It is helpful to bring a list of questions with you to this appointment.
Many patients also bring someone with them (significant other, sister, friend) to this initial consultation. A lot of information is covered, and it can be helpful to have two sets of ears present.
After you have discussed the procedure(s) to your satisfaction, you will be escorted to an exam room and asked to change into a gown.
Your surgeon will return with a patient counselor to examine the areas of your body that you wish to improve.
If you are interested in breast augmentation, this will be your opportunity to try on different implant sizes. You may also utilize the Vectra® 3D Breast Augmentation Simulator to get an idea of how you will look with implants.
After the exam is complete you will meet with your patient counselor in her office.

Here, you will discuss the price quote for your procedure(s) and financing options.
If you are ready to move forward at this point, you and your Patient Counselor can discuss available surgical dates. Scheduling cosmetic surgery is exciting, but it is a big decision. If you want to leave the office and think about your options, there is never any pressure to book surgery.
Scheduling Surgery
Anticipating and scheduling your cosmetic procedure is exciting. Once you have decided that you want to have the procedure performed by one of our surgeons, it is understandable that you want to get started on the process as soon as possible. There are some things to consider when scheduling your surgery.
Check your calendar. Make sure your surgery is scheduled during a time you can take at least a week off to recover.
Make sure you will have a responsible adult over the age of 18 to care for you for at least 24 hours after surgery.
If you have small children, be aware that you might not be able to lift them for at least 2 weeks (depending on the surgery you have).
If you are having surgery in preparation for an event (wedding, reunion, etc.) make sure you discuss the recovery time with your surgeon to ensure you will achieve the optimal result prior to the event.
In order to reserve a time on the surgical schedule, we require a $1,000 non-refundable deposit at the time of scheduling.
You will receive a packet containing all pre and post-operative instructions as well as consent forms for the procedure(s) to review before your pre-op appointment. Please bring this packet with you to the pre-op appointment.
Your Pre-Operative Appointment
Once you have scheduled a surgical date, your patient counselor will schedule you for a pre-operative appointment with one of our registered nurses.
This appointment typically takes place 2 to 3 weeks prior to surgery.
The remaining balance for your surgery will be collected.
Expect to spend 1 – 1 ½ hours at this appointment.
The nurse will explain the consent forms for surgery in detail and have you sign all necessary forms. She will discuss your recovery and answer any questions you have about the procedure(s).
Your first post-operative appointment will be scheduled at this time.
The nurse will draw a basic blood panel (you do not need to be fasting) and will take your "before" photos.
You will leave the office with any necessary prescriptions so you can have them filled and ready to go before your surgery day.
2 Days Before Surgery
Preparing in advance for your immediate recovery period helps you focus on relaxing and healing, not worrying, which can only enhance your recovery.
Make sure you have filled the prescriptions given to you at your pre-op appointment.
Preparing your recovery area in advance will ensure that you will have all the necessary items within reach. Preparing this area in advance will allow you to have time for yourself to prepare emotionally and relax, as well as let you know which supplies you may be lacking, if anything. Some things to have in this area include:

Your medications
A cell phone charger
Laptop and laptop charger
Books and magazines
Kleenex®
Bottles of water
A digital thermometer
A medication time chart
A plastic pail in the event that you become nauseated
Plenty of pillows so you can position your body comfortably
A pad and paper

Make sure you have a few changes of clothes available. All clothing should be loose fitting and easy for you to get on and off.
You will receive a call from our surgery center 2 days prior to your procedure(s).

It is very important that we speak with you to verify your check-in time and the instructions detailing when you need to stop eating and drinking before surgery.
Your Surgery Day
On the day of surgery, you will be greeted by one of our patient managers and she will ensure you are comfortable while you wait in our main lobby for a nurse to escort you to the surgical suite.
You will be taken back to the pre-op area in the surgical suite and prepped for surgery. This includes changing into a surgical gown and a nurse starting an IV.
Once you are comfortable and the IV is placed, a family member or friend may join you, if you wish.
You will meet with your surgeon and anesthesiologist prior to surgery.
After your procedure(s) is/are complete, you will awaken in the recovery area.
One of our highly trained recovery nurses will be monitoring you closely ensuring your comfort.
Once you are awake and deemed ready for release, you will exit through our private surgical exit.
Post-Operative Information
You will receive a call from our office the day after your surgery to check on you and make sure you are comfortable and your pain level is well controlled by your medication.
Many patients experience a post-surgical letdown about 3 to 5 days after surgery. As the healing occurs, these feelings disappear quickly. Post-surgical depression is completely normal. Some reasons for these feelings are:

The after-effects of anesthesia and narcotic pain medications, which are depressants.
Constipation from the medications.
A general sense of disarray or lack of control.
Staying in bed and being restricted to low-impact activities.
Pain and possible bruising and swelling which you may feel were "self-inflicted" by your choice to have a cosmetic procedure.
You may subconsciously have expected to feel and look better "instantly," even though you rationally understand that this will not be the case.

Your first post-op appointment will be 2 – 6 days after your surgery, depending on the type of procedure(s) you had.
Your next post-op appointment will be scheduled based on your surgeon's recommendation.
If you have any questions during your recovery, do not hesitate to call our office at

(303) 278-2600

. If it is after normal office hours, your surgeon will be paged.
Please schedule a personal consultation to learn more about what plastic surgery can do for you. Simply call (720) 279-1926 or request your consultation online.
Golden Complex
Our Golden office is located conveniently just off of 6th Avenue near the CO-470 interchange. Great care was taken when designing our medical office and Apex Surgical Facility which opened in 2010 in beautiful Golden, Colorado.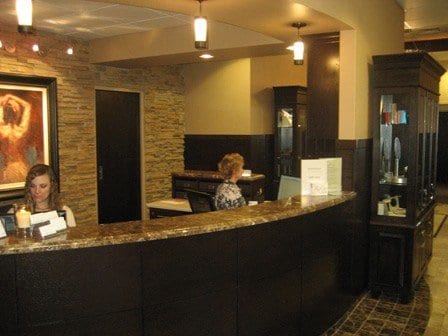 Our surgeons want to ensure that you feel comfortable when you visit our facility. We offer ground-level parking and easy entrance for recovering surgical patients. Upon entering, warm tones and textures will encourage you to sit back and relax. We offer several cozy, semi-private seating areas in our main lobby so you may feel secure knowing that your privacy is at the forefront of our practice. Help yourself to a refreshment at our coffee, water, and soda bar, and enjoy some downtime as you watch our LCD TV display calming underwater life, mountain, and beach scenery.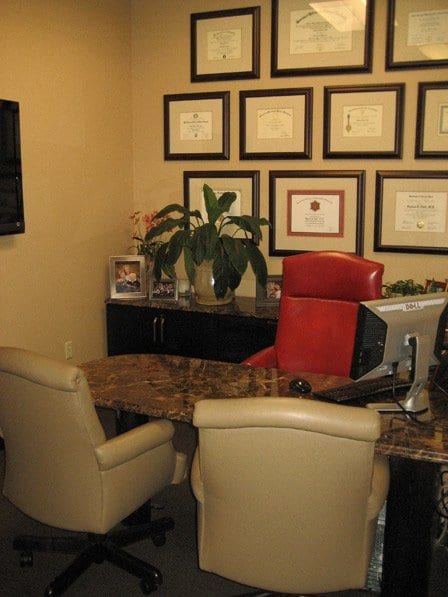 We are dedicated to providing our patients comprehensive surgical techniques as well as a wide range of non-surgical services. To this end, we have combined our medical practice with our skincare clinic, Rejuvenate!, all in one office. It is our goal to form a lasting relationship with you and be your go-to practice for both surgical and non-surgical treatments that keep you looking and feeling your best.
The consultation offices are private and welcoming, complete with a gas fireplace and a large LCD screen for viewing before and after photos. Our nurses' office and exam rooms are spacious and kept meticulously clean.
All skincare treatment rooms at Rejuvenate! are comfortable and inviting, with soothing background music and sounds to transport you to the perfect vacation setting in your mind's eye.
Cherry Creek Location
Our office in Cherry Creek is centrally located near downtown Denver, Colorado. Complimentary, private parking can be found on the east side of the building. We offer a cozy, modern waiting area complete with a coffee, water, and soda bar.
Our consultation offices are private and comfortable and exam rooms are clean and spacious. All skincare treatment rooms are calming and inviting.