Facelift
3+ Hour Surgery
Back to Work: 1-2 Weeks
At The Center for Cosmetic Surgery, our exceptional plastic surgeons consider the mini facelift the procedure of choice for people who want to look years younger. Certain patients are better suited to a more invasive traditional facelift, including those with deep wrinkles on the lower face and pronounced sagging in the cheek, jawline, and neck. By choosing the most appropriate facelift technique for each patient from Denver, Colorado Springs, and surrounding areas, our surgeons consistently provide personalized facial rejuvenation that looks natural and lasts many years.
What Is a Facelift?
A facelift is a facial plastic surgery procedure that rejuvenates the lower 2/3 of the face; it does not address the forehead, brows, or eye area. At CCS, a traditional facelift combines the mini facelift with submental resection to tighten the neck muscles through an incision under the chin.
A Reputation Built on Results
I can't say enough positive things about this practice. The staff and Dr Freeman are fantastic, I appreciated...
I had top surgery with Dr.Steinwald and I couldn't be happier with my results. Everyone I interacted...
Dr Vath and his entire staff are extremely knowledgeable, skilled, professional and supportive! Their...
I had a consultation with Dr. Freeman and I was very impressed with the entire experience. First, the...
What Is the Difference Between a Mini Facelift and a Facelift?
In general, a facelift addresses more significant aging of the lower face than a mini facelift.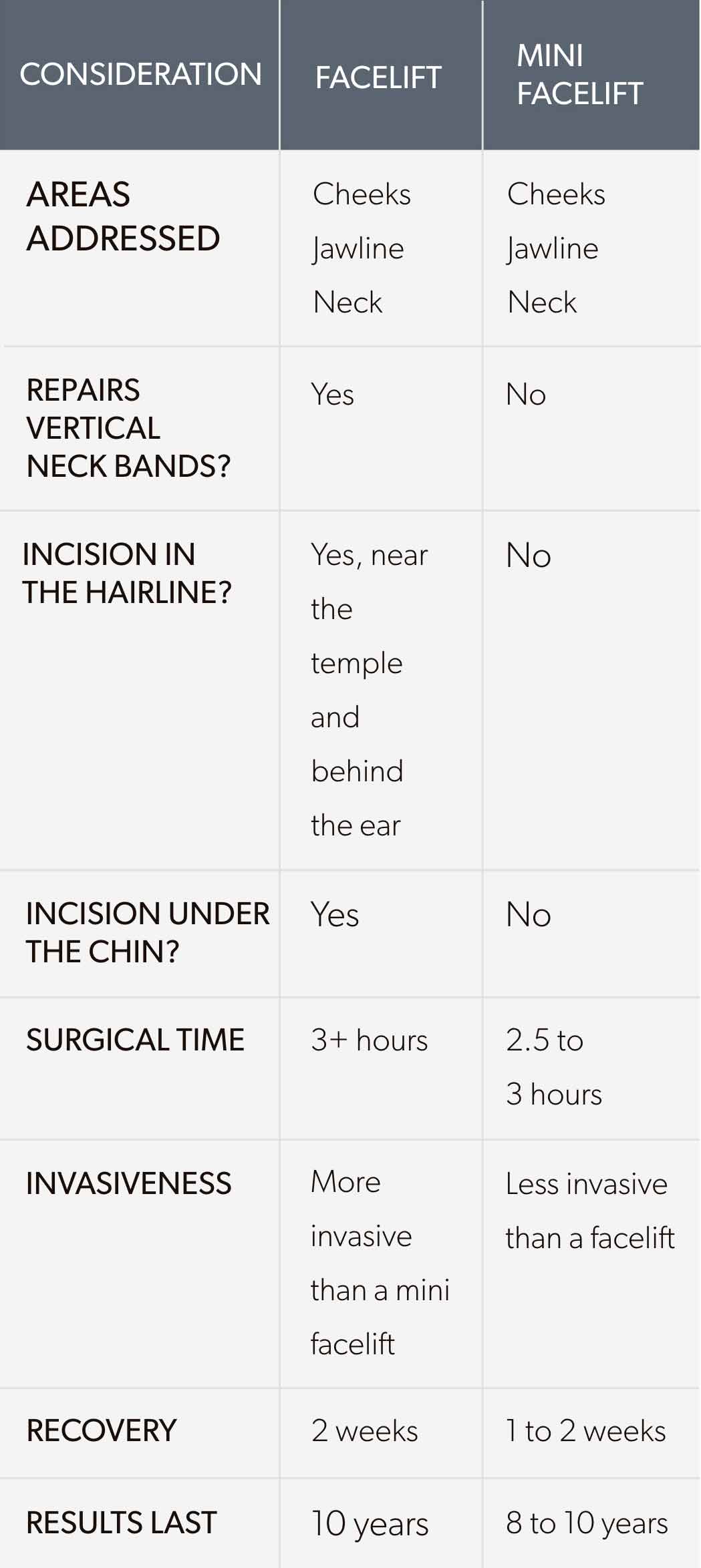 Why Is a Mini Facelift Best for Most Patients?
With a mini facelift, our surgeons can provide satisfying results for most patients with minimal scarring and without affecting the hairline. The mini facelift addresses the most common reasons people seek facelift surgery:
Folds and wrinkles around the mouth
Sagging cheeks and jowls
Loss of definition along the jawline and neck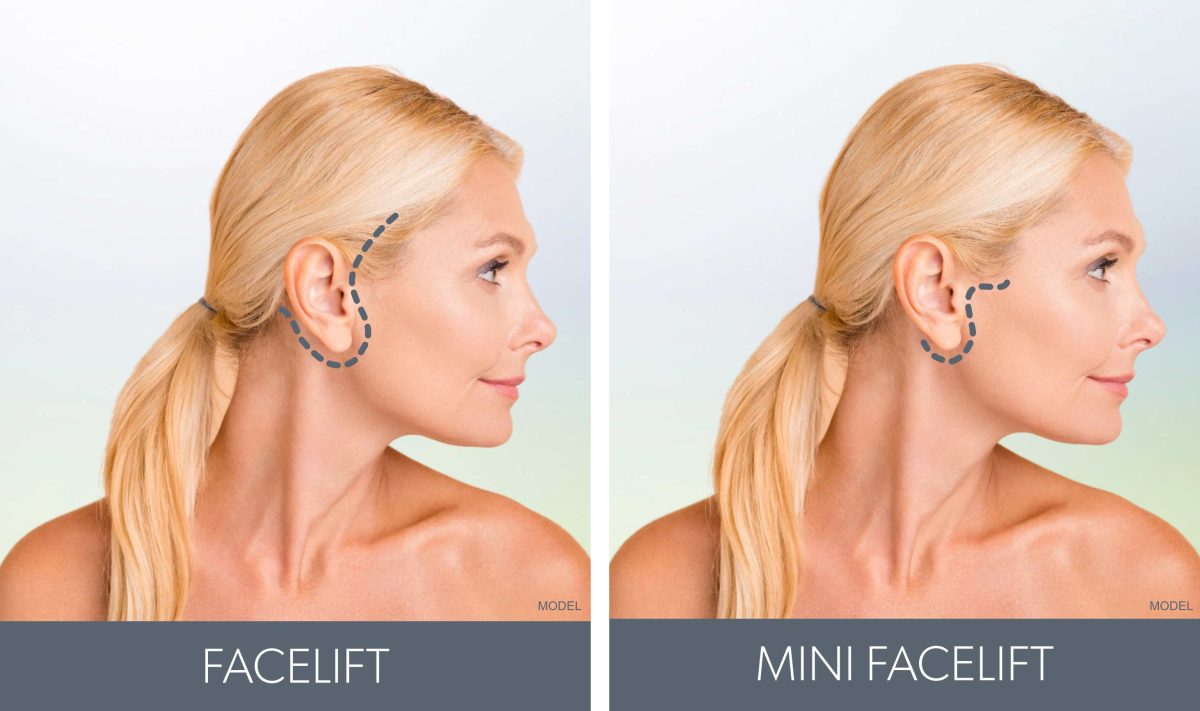 How Is a Traditional Facelift Performed?
Our surgeons perform facelift surgery as an outpatient procedure using light general anesthesia. The incision begins in the hair-bearing scalp at the sideburn, travels down in front of the ear, then under the earlobe and into the hairline behind the ear. Through the incision, the surgeon lifts and tightens the underlying structures. He also creates a second incision beneath the chin to tighten the vertical muscle bands of the neck and remove fat under the chin with liposuction if needed. Once complete, he re-drapes the skin over the reshaped facial structures without tension, removes the excess, and closes the incisions with fine sutures.
How Long Is Recovery After a Facelift?
While experiences vary, most patients have only mild discomfort for the first few days after facelift surgery. Expect recovery to progress along the following general timeline:
1 to 2 days: Bandages and compression wrap are removed
1 to 2 weeks: Swelling and bruising subside
10 days to 2 weeks: Ready to resume nonstrenuous work and exercise
4 weeks: Ready to ease back into physical jobs and strenuous exercise
6 to 12 weeks: Facial tightness eases
3 to 6 months: Final results attained
Can I Combine My Facelift With Other Procedures?
Yes. Because facial aging is usually not limited to the lower face and neck, our surgeons often combine facelift surgery with other procedures, including:
Our Exceptional Plastic Surgeons
Our experienced plastic surgeons Dr. Steven Vath, Dr. Andrew Wolfe, Dr. Paul Steinwald, and Dr. Matthew Freeman, and the newest member of our team Dr. Teresa Cunningham lead our patient-centered practice with warmth, honesty, and respect.
Dr. Steven Vath
Dr. Andrew Wolfe
Dr. Paul Steinwald
Dr. Matthew Freeman
Dr. Teresa Cunningham
Facelift FAQ
What is the best age to get a facelift?
The "best" age for a facelift is not a number; instead, it is when nonsurgical aesthetic treatments do not provide the rejuvenation you desire. Patients are typically in their 40s to 60s and should be healthy and have good skin elasticity.
When will I be ready to be seen in public?
Patients are typically ready to be seen by others in 4 weeks.
What makes today's facelifts look natural?
Modern facelift techniques tighten more than the skin of the face; they reposition the structure between the skin and muscle called the SMAS (superficial musculo-aponeurotic system) to avoid a tight, windblown look.
How much younger will I look after a facelift?
After a traditional facelift, patients typically look like themselves only 10 years younger.
How long do the results last?
Traditional facelift results last approximately 10 years. This time frame varies with the patient's age at the time of surgery, skin elasticity, sun exposure, lifestyle, and other factors. While the surgery cannot stop the aging process, patients continually look younger than if they had not had the surgery.
What are my next steps?
Our plastic surgeons apply current yet proven techniques to achieve facelift results that speak for themselves. The Center for Cosmetic Surgery has two plastic surgery offices conveniently located in the Denver metropolitan area. One is located just outside Denver in lovely Golden, Colorado, immediately off 6th Avenue West; the other is near downtown in Cherry Creek, Denver. To learn what facial plastic surgery can do for you, request your consultation using our online form or call  (303) 278-2600 for an appointment.