Mommy Makeover
At The Center for Cosmetic Surgery, women from Denver, Colorado Springs, and surrounding areas choose Mommy Makeover surgery to renew their bodies after pregnancy and childbirth. This personalized combination of plastic surgery procedures often includes a tummy tuck and breast surgery (breast augmentation, breast lift, breast reduction, or a combination of these). Some women choose to add liposuction or another body contouring procedure, such as CoolSculpting®, after a Mommy Makeover for a more comprehensive result.
What Is a Mommy Makeover?
Each Mommy Makeover our surgeons perform is personalized to the unique needs and aesthetic goals of the patient. Most Mommy Makeovers include a combination of the following procedures:
Tummy Tuck
The majority of Mommy Makeover procedures include abdominoplasty, often called a tummy tuck, which manages all 3 components of the abdominal wall: the muscles, fat, and skin. Pregnancy or significant weight loss will create lax abdominal muscles that give the tummy a rounded appearance. These are tightened creating a flatter internal structure to the abdominal wall. The loose skin, as well as any excess fat beneath the skin, is removed in order to create a tight, contoured appearance. This procedure results in a scar from hip to hip that is low enough to hide under a two-piece swimsuit. Our Denver plastic surgeons use an innovative no-drain abdominoplasty procedure for improved recovery.
---
Breast Augmentation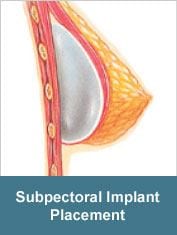 Breast augmentation can be used to restore upper fullness in breasts that have deflated due to pregnancy, breastfeeding, or weight loss. If a woman is an A or small B cup after having children or losing weight, often there is not enough breast volume to have created sagging and the need for a breast lift. In these situations, when the breasts reside above the breast creases, breast augmentation can be performed. It is generally advised that the implants are placed beneath the pectoralis muscles (see illustration) to achieve a more natural look with fewer complications. The incision options include the breast crease, periareolar, or axillary locations.
---
Breast Lift
For women who have some sagging of the breast tissue below the breast creases, a breast lift (mastopexy) is necessary in order to restore a youthful, perky breast shape. Implants alone do not lift breasts. A lift will tighten the lower pole of the breasts to create a round undersurface and a perky, better contoured shape. This is accomplished by removing skin from the lower breast, shifting the breast upward with the areola and nipple attached, and rewrapping the skin around the lower breast in a tighter fashion (see illustration).
---
Liposuction
Liposuction can be added to a Mommy Makeover in order to help contour areas that need not have skin excised. The most common regions that women choose to have liposuction along with their tummy tuck are the hips, flanks (love handles), back, outer thighs (saddlebags), and inner thighs (see illustration). Often, the liposuction requires no further scarring since the procedure can be performed through the same incision used for the abdominoplasty. At The Center for Cosmetic Surgery, approximately half of our Mommy Makeover patients opt to undergo some degree of liposuction.
---
How Much Does a Mommy Makeover Cost in Denver?
The cost for Mommy Makeover procedures at our Denver practice varies widely with the specific procedures performed. We provide a personalized estimate of the cost as part of the consultation with our plastic surgeons. We also offer financing options that can help the procedure fit into most patients' financial situations without a strain.
How Long Is Mommy Makeover Surgery?
The average Mommy Makeover takes about 3 to 6 hours to perform. The actual duration of the surgery varies with the specific procedures chosen and their complexity. Time estimates include:
Tummy tuck: 2 to 3 hours
Breast surgery: breast augmentation takes 1 hour; breast lift takes 2 to 3 hours; breast reduction takes 2 to 3 hours
Liposuction: 0.5 to 1.5 hours
Our plastic surgeons limit the length of surgery for combination procedures to ensure patient safety, so there are occasions where a second surgery may be needed.
A Reputation Built on Results
So far so good. I'm still in the healing process but exited to see results once swelling goes down....
Dr. Freeman is an incredible surgeon and a great person. I feel so blessed to have had him as my surgeon.
Dr. Steinwald, and his team were amazing. So happy with my results. Tummy tuck scar so thin and belly...
Outstanding professionalism and personal attention from every member of the Center for Cosmetic Surgery...
How Do I Prepare for My Mommy Makeover Surgery?
We will review how to prepare for your surgery as part of your pre-op appointment. Some helpful tips include:
Get down to a healthy, stable weight. If you need to lose more than 10 pounds, take the time to do so. Being in good overall health before surgery can help speed up recovery and reduce the risk of complications.
Quit smoking at least 4 weeks before your surgery. Nicotine restricts blood flow, which slows down and interferes with the healing process.
Make sure the medications and supplements you take are safe before surgery and after surgery.
Take care of any bloodwork and other pre-op testing well before your surgery date.
Arrange to have an adult friend or family member take you to and from surgery.
Our Exceptional Plastic Surgeons
Our experienced plastic surgeons Dr. Steven Vath, Dr. Andrew Wolfe, Dr. Paul Steinwald, and Dr. Matthew Freeman lead our patient-centered practice with warmth, honesty, and respect.
Dr. Steven Vath
Dr. Andrew Wolfe
Dr. Paul Steinwald
Dr. Matthew Freeman
Is Mommy Makeover Surgery Painful?
Patients are generally sore and fatigued for the first week after surgery. Our surgeons apply a long-acting pain medication called Exparel® during surgery to help alleviate any significant pain. The abdominoplasty is the rate-limiting factor during the recovery from a Mommy Makeover. For most patients, the breast procedure is much easier to get through than the tummy tuck. In fact, after a Mommy Makeover, most women report that breast discomfort is hardly noticeable. Although the tummy tuck can make for a tough first week, the recovery has become much easier than in the past because our surgeons do not use drains. The addition of some adjuvant liposuction generally does not add recovery time to the makeover.
Mommy Makeover Recovery Timeline
Patients leave Apex Surgical Facility wearing a surgical bra and abdominal binder. These garments will help minimize swelling and offer support to the breasts and tummy for greater comfort during the initial stages of healing. While patient experiences vary, most recover as follows:
Week 1: After a Mommy Makeover, patients are generally off pain medication in 3 to 7 days. They are walking variable distances within the first week but should avoid any activity causing a significant rise in blood pressure for the first couple of weeks, including physical workouts. The first week is generally a time for relaxation with some walking as tolerated.
Week 2: Many people go back to work if they have non-exertional jobs, but they still need to take it pretty easy.
Week 3: People can start to pick up the intensity of their walks or even start a very light, low-impact cardio workout.
Week 4: Patients should guide their activity based upon listening to their bodies. If something hurts, it is recommended to back off rather than push through it. The body will alert the mind well before any damage to the results can occur. It's acceptable to increase workout intensity as it feels comfortable.
Week 6: Scars are at maximum strength, but most people are well underway with their exercise regimens before the full six weeks.
Mommy Makeover Recovery Tips
Ask for at least 2 to 3 weeks off from your job.
Have a loved one close by to help you day to day while you recover.
Arrange extra help if you have a baby, children, or pets.
Prepare your recovery space so everything you need is close at hand (electronics, chargers, books, pillows, water, medication).
Don't lift anything for at least 2 weeks following your surgery.
Make sure to take your medication as prescribed.
Don't smoke after surgery.
Make sure to walk. It helps with circulation and healing.
Wear your compression garments.
Sleep in a comfortable position that doesn't put tension on your stitches.
Drink plenty of water to stay hydrated.
How Long Does Mommy Makeover Swelling Last?
Aesthetically, a large percentage of the swelling is gone by the end of a month, but a ridge of firmness can persist in the lower tummy and at the scar location which can take several months to totally flatten. There is not a great deal of swelling from breast surgery. However, there is some relaxation that happens over the first few months after a breast lift, breast augmentation, or a combination of the two. As this relaxation occurs, upper fullness from implants will lessen a bit and lower breast tightening from a lift will round out to yield a more natural, attractive shape. But not to worry: immediately after surgery, your breasts will look great in clothes, a bra, a dress, or a swimsuit.
What Do Mommy Makeover Scars Look Like?
Precise, fine line scars are placed in the most inconspicuous location possible, but they take up to two years to fade completely. At The Center for Cosmetic Surgery, our plastic surgeons perform any scar revisions at no cost in the rare event it is helpful in achieving an improved, thinner, flatter scar appearance. The color of a scar is determined by the individual genetics of the patient and only time can allow for fading of this color. Scars creams and topical therapies such as silicone sheeting can help reduce the thickness of a hypertrophic or keloid scar, but actually offer no long-term benefit in normal scar appearance as compared to time.
Can I Still Get Pregnant After My Mommy Makeover?
While pregnancy is generally safe for women who have had Mommy Makeover surgery, they will likely lose most of the benefits of their surgery. If you know you'd like to have a baby in the future, our plastic surgeons recommend waiting until afterward to make the most of your results.
Just the Facts About Mommy Makeover Surgery
There are a lot of myths and misconceptions about combining plastic surgery procedures. These 5 key facts should help you get past the hype.
1) FACT: Combining procedures, such as done in a Mommy Makeover, has been proven safe.
Many studies have been performed that verify the safety and effectiveness of combining plastic surgery procedures, such as a Mommy Makeover. Given the appropriate health and candidacy of the patient, combining tummy tucks and breast surgery offers several advantages. You get a body transformation all at once with one anesthetic, one recovery, and a lower overall cost.
---
2) FACT: Breast and tummy procedures do not affect each other.
Tightening the tummy does not pull down on the breasts and lifting breasts does not pull up the tummy. The tummy and breasts are two completely separate anatomical areas of the body. The inframammary fold, or breast crease, delineates the upper portion of the abdomen from the lower region of the breasts. When the tummy is tucked, the breasts are not pulled down. Similarly, when the breasts are lifted and tightened, there is no effect on the abdomen.
---
3) FACT: Drains are not generally necessary with either tummy or breast procedures.
Except in rare circumstances, our plastic surgeons do not employ drains with either breast surgery or tummy tucks.
Surgical drains are a source of discomfort and anxiety for many patients following a tummy tuck. In a traditional tummy tuck procedure, drains are used to prevent fluid accumulation in the open space created between the abdominal flap (skin and fat) and the muscle. Through the use of progressive tension sutures, our surgeons can eliminate this space and securely advance the flap with tension distributed over a broader area. Patients cannot feel these sutures so they are not even aware of their presence. After a few months, they dissolve leaving no foreign material whatsoever in the body. This technique prevents seroma formation (fluid build-up) as there is no longer any space in which fluid can accumulate.
The no-drain tummy tuck makes recovery much easier in many ways, including:
No cumbersome management of tubes hanging from the body
No pain from drain sutures pulling on the skin
No fear and possible discomfort associated with their removal
Additionally, tension is spread out rather than being concentrated at the wound closure site. This decreases the risk of other complications such as wide or hypertrophic (raised) scarring. Furthermore, our surgeons believe that the absence of drainage tubes going through the skin after a tummy tuck reduces the risk of infection and the need for antibiotics.
---
4) FACT: Patients do not need to be at their ideal body weight.
A woman need not be at an ideal body weight to get great results from a Mommy Makeover. Although losing weight prior to having plastic surgery can allow for a more attractive transformation, not everyone can reach their ideal body weight. The majority of any planned weight loss should be shed prior to surgery. But once you've maximized your efforts or stabilized, plastic surgery can be considered to manage loose or deflated breasts, tummy rolls, or skin laxity, and stretched, separated abdominal muscles. Some of the most gratified patients are somewhat overweight prior to undergoing breast and tummy surgery. At The Center for Cosmetic Surgery, we believe that success after cosmetic surgery is measured by a patient's happiness with the aesthetic changes that can be safely accomplished – not the realization of some idealized, societal version of beauty.
---
5) FACT: Mommy Makeovers do not always require a hospital stay.
Outpatient Mommy Makeovers can be performed so patients can recover in the comfort of their own homes. Because a Mommy Makeover generally takes less than 6 hours to perform, most patients can return homes for their recoveries. This practice has been proven safe and allows for early walking and a more comfortable environment for recovery.
Keys to Attractive Results
Attractive Mommy Makeover results depend on several factors, including:
1) The tummy tuck scar is low on the abdomen and the belly button looks natural.
A natural, attractive tummy has a funneling, tucked-in belly button contour rather than a fake-looking circular appearance at the tummy surface. After an abdominoplasty, the belly button plays a critical role in the normal, feminine appearance of a pretty tummy.
The scar must be low enough on the abdomen to remain hidden by most small bikini bottoms or undergarments. A scar that is too high or too low to be easily covered can greatly detract from the aesthetic benefits of a tummy tuck.
---
2) Breast contour is improved with a lift when necessary, and implants are used only to increase size and upper fullness.
Implants do not assist in lifting sagging breasts or creating a better breast shape. Implants achieve more upper fullness and larger breasts and can successfully restore an attractive fullness to small, deflated breasts that do not sag below the breast crease. When breast augmentation alone is performed when a lift is also needed, then ugly, misshaped breasts are the result. Therefore, it is critically important that a legitimate lifting procedure (breast lift) be performed when indicated and that implants be placed only for the goals of enhancing size and upper fullness.
---
3) Liposuction is added when desired by patients to reduce hip or love handle fullness.
Frequently, patients will choose to undergo some liposuction at the same time as their abdominoplasty. This is for fatty excesses in areas not addressed by the tummy tuck, such as the flanks (love handles), hips, outer thighs (saddlebags), inner thighs, and back. Since an abdominoplasty does not flatten out the sides of the body such as the hip and love handle areas, many people find it important to add some liposuction to these regions in order to get the most complete aesthetic result.
Liposuction is rarely needed in order to create the tightest, flattest tummy during an abdominoplasty. This is because fat is directly removed during the tummy tuck operation. Along with the muscle and skin tightening, this fat removal obviates the need to liposuction the tummy in order to achieve a flatter abdominal contour.
Keys to Choosing Your Mommy Makeover Surgeon
Review many impressive before-and-after photos.
There are two important reasons to spend time reviewing before-and-after pictures when considering plastic surgery. The first is to determine what procedure, if any, actually serves to improve your undesired appearance. The second is to distinguish which surgeon performs the best work.
There are many procedures discussed on the web and touted by the cosmetic surgery community and media as aesthetic dream-makers. Often, however, they are not. Be skeptical and use before-and-after pictures to determine which procedures will actually address your concerns. If an operation works well, there will be thousands of pictures demonstrating its success. If it's hard to find good before-and-after pictures of a procedure used for the problem you're trying to address, then it probably doesn't exist. Remember to be honest with yourself about your appearance when evaluating web pictures. The mirror lies. We recommend that you take pictures of yourself and set them in front of your computer while you do your research. Make sure that the before photos look like you and then determine what procedures work. Just because the media or some website states that fat injection to the buttocks will lift the butt, that doesn't make it so.
Second, once you've identified the best operation for you, it's easy to determine which surgeons achieve the most natural and attractive results. All people are hard-wired to appreciate natural attractiveness. Fortunately, it's easy for you to identify who can meet your highest expectations simply by reviewing before-and-after photo galleries.
---
Find a surgeon who specializes in cosmetic plastic surgery.
Many plastic surgeons perform cosmetic surgery procedures such as Mommy Makeovers. But few specialize in the cosmetic, rather than reconstructive side of plastic surgery and dedicate their entire practice to aesthetic procedures. Because our surgeons practice cosmetic plastic surgery exclusively, they perform hundreds of Mommy Makeovers per year and can assure each patient that she will get the most beautiful aesthetic transformation possible.
---
Ask if the surgeon uses only an accredited, state-of-the-art surgical facility.
Our surgeons perform Mommy Makeover procedures in our AAAHC certified Apex Surgical Facility in Golden, Colorado. Apex is owned and operated by our surgeons, and is used exclusively for aesthetic surgery patients. Anesthesia is used to ensure that you feel no discomfort and that your breathing is maintained and controlled for the duration of your procedure. We use only board-certified anesthesiologists, including Dr. Brian Hopkins, the medical director of Apex Surgical Facility.
---
Notice if, upon meeting the surgeon, you make a connection.
Perhaps the most important criterion for choosing a plastic surgeon is your intuitive sense of comfort with the physician as a person. Cosmetic surgery is an emotional and personal experience. After all of your research into credentials and before/after pictures, ultimately, you must feel good about trusting the plastic surgeon to care for you and your aesthetic results.
Our experienced plastic surgeons can provide you with honest, reliable information about Mommy Makeover surgery. To schedule a personal consultation in Denver, simply call (303) 278-2600 or request your consultation online.