See Our Patient Results
Breast Augmentation
Best known for beautiful breast augmentation results throughout the Denver metro area, Colorado Springs, Fort Collins, and beyond, our board-certified plastic surgeons perform this procedure for women who are not happy with their natural breast size or whose breasts have deflated after pregnancy. For women who simply want better body proportions or more symmetrical breasts, there is no need to settle. At The Center for Cosmetic Surgery, Dr. Vath, Dr. Wolfe, and Dr. Steinwald perform hundreds of natural-looking breast augmentation surgeries per year. In some women, implants alone create beautiful, filled-out breasts. In others, an enhancement with a breast lift (or mastopexy) is necessary to achieve an attractive, fuller shape.
View Before & After Photos
We would be happy to meet with you in person and answer all of your breast augmentation questions. We have 2 plastic surgery offices conveniently located in the Denver metropolitan area. One is just outside of Denver in lovely Golden, Colorado, immediately off 6th Avenue West, and the other is downtown in Cherry Creek, Denver. Please schedule a personal consultation to learn what plastic surgery can do for you. Simply call (303) 278-2600 or request your consultation online.
Understanding Breast Augmentation
Breast enhancement surgery can be performed through a tiny incision leaving an inconspicuous scar. Most women experience a quick and uneventful recovery with relatively little disruption to their lives. Patients have more options than ever before in terms of implant selection and surgical techniques.
Choosing Breast Implants
Our plastic surgeons offer Denver women the latest silicone gel breast implants. These FDA-approved implants look and feel extremely natural. There are several types of cohesive silicone implants available, including the form-stable silicone or "gummy bear" implants. When silicone implants rupture, the semi-solid gel material does not leak throughout the body but rather is maintained within the body's naturally created capsule that forms around the implants. We offer both silicone gel and saline implants; both types are safe, and each device has advantages and drawbacks.
---
Incision Options
Four incision options exist:
Inframammary (breast crease)
Periareolar (along the border of the areola)
Transaxillary (armpit)
Transumbilical (TUBA)
The inframammary incision is the most frequently chosen approach. There are many advantages to this location. The resulting scar hides well in the breast crease and is inconspicuous after it fades. The inframammary approach provides an extremely reliable, safe means of accurately inserting implants. It allows for tunneling behind the breast to get to the muscle while only minimally disrupting the milk ducts.

---
Tunnel
The tunnel made for implant insertion from the breast crease incision goes beneath the breast tissue, causing minimal disruption of the milk ducts. At The Center for Cosmetic Surgery, our plastic surgeons believe that tunneling behind the breast rather than through it reduces the risk of infection and capsular contraction, which may require revision surgery.
---
Implant Placement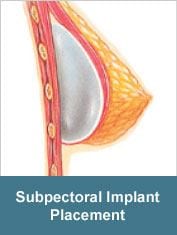 Breast implants can be placed subpectoral (beneath the pectoralis muscle) or subglandular (in front of the pectoralis muscle). There are several advantages to placing the implants beneath the muscle:
The extra coverage of the implant in the upper portion of the breasts assists in achieving a more natural contour and appearance.
Visible rippling in the upper pole of the breast is significantly reduced.
Implant palpability is less likely with implants positioned behind the muscle.
There is maximal preservation of the nerves that supply nipple sensation.
There is evidence that capsular contraction (heavy scar tissue forming around the implant) is reduced.
There is less interference with mammography because the implant is partially separated from the breast tissue by the muscle.
How Is Breast Augmentation Performed?
A breast augmentation takes about one hour to perform. The pockets for the implants are delicately and precisely created behind the natural breast position. Then, the implants are placed, and the small tunnel and skin are sutured closed. Even with the most meticulous methods used, the surgery does not require more than one hour to complete.
What Is Breast Augmentation Recovery Like?
The recovery from breast augmentation is faster and simpler than most people initially expect. Soreness mainly stems from implant placement behind the pectoralis muscle, but it dissipates rather quickly over the first few days. Most people are off of pain medication within 1 to 5 days. After this, returning to work at a non-strenuous job is permitted, as are driving and normal activities that don't require exertion.
When Can You Exercise After Breast Augmentation?
After 2 weeks, light cardiovascular activity is generally acceptable, but patients are advised to listen to their bodies. If something doesn't feel right, it's recommended to back off. High-impact activity such as running and heavy lifting should not be resumed until after a month. You'll get back to all of your pre-surgery activities, but the timing to get there varies from person to person.
The aesthetic recovery can be an evolution. Some patients' breasts look terrific and natural directly after surgery, while others need some time for the lower pole breast skin to relax and allow the implants to drop into a more natural position. This can vary from a few weeks to even a couple of months. Either way, the breasts will look great in clothes, a dress, or even a bikini right after surgery.
Finally, precise, fine-line scars are placed in the most inconspicuous location possible, but they take up to 2 years to fade completely. At The Center for Cosmetic Surgery, Dr. Vath, Dr. Wolfe, and Dr. Steinwald perform any scar revisions at no cost in the rare event it is helpful in achieving an improved, thinner, flatter scar appearance. The color of a scar is determined by the individual genetics of the patient, and only time can allow for fading of this color. Scars creams and topical therapies such as silicone sheeting can help reduce the thickness of a hypertrophic or keloid scar, but these products actually offer no long-term benefit in normal scar appearance as compared with time.
FAQ
What type of breast implant is right for me?
As cosmetic medicine has advanced in recent years, the number of breast implant options has grown. For many women, the first in a series of many breast implant decisions is whether to choose saline, silicone gel, or highly cohesive silicone gel (gummy bear) implants. Learn more.
How do I choose my breast implant size?
The right breast implant size for you depends on numerous factors, not just desired cup size. Our plastic surgeons take precise measurements and share their experience and wisdom to help determine your ideal implant size. We also use 3-D imaging to show you how different sizes may look. Learn more.
How do I best determine which breast implant profile and shape are best for me?
Some of our breast augmentation patients want subtle, discreet results. Others would like a dramatic transformation and more cleavage. We offer different implant shape options to accommodate each woman's goals. We also have several options for implant profile, meaning how far the implant projects from the body in relation to the width of its base. Learn more.
Which breast augmentation incision option is best for me?
Most of our breast augmentation patients choose 1 of these 2 incisions: the inframammary incision in the crease beneath the breast or the periareolar incision along the lower border of the areola. Both provide excellent access and leave discreet scars. We discuss the pros and cons of each to help you decide. Learn more.
Should my breast implants be placed behind or in front of the muscle?
We generally recommend that breast implants be placed behind the muscle for a number of reasons, including the natural look and feel this approach creates. Learn more.
Do I need a breast lift? What is the purpose of breast implants versus a lift?
Women who want larger breasts but don't have any sagging are good candidates for breast implants. Women who have sagging but don't want a boost in size are good candidates for a breast lift. Many women can benefit from both procedures. We make a recommendation for you after a thorough evaluation. Learn more.
How should I prepare for my breast augmentation surgery?
From picking up your prescriptions early to restricting eating the night before surgery, our list of detailed instructions makes it easy for you prepare for your upcoming procedure. Learn more.
What should I expect after my breast augmentation surgery?
You'll be surprised how quickly you begin enjoying your results. Your own recovery timeline will be unique based on your body and the details of your procedure, but you can use our guide to learn what you can generally expect. Learn more.
Just the Facts About Breast Augmentation
There are a lot of myths and misconceptions about breast augmentation, but these 4 key facts should help you get past the hype.
1) FACT: Breast implants do not improve the shape of sagging breasts.
When needed, a breast lift avoids an ugly, fake shape and creates much more natural appearance. Breast augmentation surgery will fill out breasts without changing their position. If the breasts sag below the creases, implants will not rotate them upward into an attractive position. Rather, they will fill out the upper poles, leaving the remainder of the unlifted breasts sagging off the implants and creating an unattractive, misshapen appearance.
When necessary, a breast lift, or mastopexy, will tilt the sagging breasts upward into a perky position and create a much more natural contour along with the implants.
---
2) FACT: Silicone gel implants are not dangerous.
They do not leak around the body and do not cause medical illness or disease. Silicone gel implants are made of a cohesive gel that is a semi-solid and does not leak throughout the body if the shell breaks. Despite their temporary ban by the FDA, silicone implants have never caused autoimmune illnesses as was claimed in many lawsuits. They have definitively been proven safe, hence, were reapproved in 2006 for everyone's use. Gel implants have 3 main advantages over saline implants:
Softer, more natural feel
Less rippling or wrinkling
Lower risk of rupture
---
3) FACT: Round implants achieve a natural contour.
They do not inherently create a fake, "boob-job" appearance. Teardrop-shaped implants usually do not create a more natural shape.
There are essentially 2 implant shapes available: round and contoured (teardrop). Round implants are most popular; however, contoured implants may be a good option for some women. When a woman is standing upright, round implants take on a natural teardrop breast contour, and their shape changes with positional movement as natural breast tissue would. When they rotate, there is no problem with distorting the breast shape. Contoured implants were created in an attempt to provide a more natural-looking alternative to round implants, but most evidence does not support this assertion. These implants can be helpful for women with small breasts and very tight skin. Contoured implants are manufactured with a textured surface to help resist rotation. Nonetheless, these implants can spin, causing breast distortion and occasionally the need for surgical correction.
---
4) FACT: Breast massage after surgery may reduce capsular contraction.
The purpose of massage is not to improve breast shape during the recovery. Capsular contraction is when the capsule that your body forms around the implant becomes thick and heavily scarred. This is not dangerous to you but can cause the breast to become tight, hard, and unattractive. Evidence supports breast expansion exercises (massage) after surgery to decrease the tendency toward capsular contraction. Additionally, submuscular implant placement can reduce the incidence of contracture.
Why Choose Us
For Your Breast Augmentation
The best thing a breast augmentation patient can do to ensure she gets great results is to choose a top-of-the-line surgeon. All 3 of our surgeons specialize in cosmetic breast surgery and have been recognized by their peers as leaders in the field. We invite you to get to know us and see what sets us apart.
5 Keys to Successful Results
Our surgeons have recognized a few factors that successful breast augmentation surgeries have in common. These are among their top priorities when they begin any new case.
1) The implants are placed precisely behind the natural breast position.
Each plastic surgery procedure has 1 critical pearl that is essential to creating the most natural, attractive result: The implants must be placed precisely and accurately behind the natural breast position. This may seem obvious, but it is not uncommon for women to hope breast augmentation will give them someone else's breasts. This is not the case. The breast crease, or inframammary fold, determines where the breasts naturally reside on a woman's chest, and this should rarely be manipulated. This crease determines the space between the breasts and their inherent shape that is not fundamentally altered during augmentation, but merely enhanced. When reviewing before-and-after photos it quickly becomes clear that post-augmentation pictures have an undeniable similarity to the pre-surgery photos. This is the key to creating the most natural, attractive breast enhancement.
All too often, this basic premise is not followed. Common mistakes include:
Dividing the pectoralis muscle attachments to the sternum, which can centralize the implants and create fake-looking, circular cleavage
Over-dissecting the pocket laterally (to the sides), causing the implants to move too far apart
Disrupting the inframammary folds (breast creases), which can cause bottoming out or a "double-bubble" deformity
Inserting an implant diameter or profile that does not match the patient's breast width
---
2) The implants are placed behind the pectoralis muscle.
Placing breast implants into a subpectoral (behind the pectoralis muscle) position generally achieves a more natural-looking, teardrop, sloping breast contour with less implant rippling and palpability in the upper pole. In some patients, subglandular (above the muscle) placement can lead to a fake, circular appearance due to less tissue coverage in the upper pole.
---
3) The implant diameter matches your natural breast diameter.
The best breast implant choices for each woman are those that have a diameter that matches the full width of her natural breast base. Implants that are too narrow fail to take full advantage of the breast width and fall short of creating the best shape possible. Implants that are overly wide extend too far to the side and detract from the overall breast aesthetics.
---
4) The scar is hidden and inconspicuous.
The scars from breast augmentation should be nicely hidden. The inframammary scar should be placed within or slightly above the breast crease so that it is covered by a bra or bikini. Over time, once faded, scars should be imperceptible naked. Alternatively, if the periareolar scars are chosen, they should hide nicely at the precise edges of the areolae so the eye does not pick them up.
---
5) A breast lift is performed when necessary.
Breast implants do not lift breasts, nor do they help "hold up" breasts undergoing a lifting procedure. Implants will create larger breasts and fill deflated upper poles. A breast lift serves the purpose of improving the shape of sagging breasts. If a woman needs a breast lift and only has implants, the results will suffer considerably. It is critical that a mastopexy is performed when indicated to create beautiful breasts.
Back to Top