See Our Patient Results
Breast Augmentation
Best known for beautiful breast augmentation results throughout the Denver metro area, Colorado Springs, Fort Collins, and beyond, our board-certified plastic surgeons perform this procedure for women who are not happy with their natural breast size or whose breasts have deflated after pregnancy. For women who simply want better body proportions or more symmetrical breasts, there is no need to settle. At The Center for Cosmetic Surgery, Dr. Vath, Dr. Wolfe, and Dr. Steinwald perform hundreds of natural-looking breast augmentation surgeries per year. In some women, implants alone create beautiful, filled-out breasts. In others, an enhancement with a breast lift (or mastopexy) is necessary to achieve an attractive, fuller shape.
We would be happy to meet with you in person and answer all of your breast augmentation questions. We have 2 plastic surgery offices conveniently located in the Denver metropolitan area. One is just outside of Denver in lovely Golden, Colorado, immediately off 6th Avenue West, and the other is downtown in Cherry Creek, Denver. Please schedule a personal consultation to learn what plastic surgery can do for you. Simply call (303) 278-2600 or request your consultation online.
Understanding Breast Augmentation
Breast enhancement surgery can be performed through a tiny incision leaving an inconspicuous scar. Most women experience a quick and uneventful recovery with relatively little disruption to their lives. Patients have more options than ever before in terms of implant selection and surgical techniques.
Are Saline or Silicone Gel Breast Implants Best?
Our plastic surgeons offer Denver women both saline and the latest silicone gel breast implants; both types are safe and each device has advantages and drawbacks. Silicone gel implants are FDA approved and look and feel extremely natural. There are several types of cohesive silicone implants available, including the form-stable silicone or "gummy bear" implants. When silicone implants rupture, the semi-solid gel material does not leak throughout the body but rather is maintained within the body's naturally created capsule that forms around the implants.
---
Incision Options
Four incision options exist:
Inframammary (breast crease)
Periareolar (along the border of the areola)
Transaxillary (armpit)
Transumbilical (TUBA)
The inframammary incision is the most frequently chosen approach. There are many advantages to this location. The resulting scar hides well in the breast crease and is inconspicuous after it fades. The inframammary approach provides an extremely reliable, safe means of accurately inserting implants. It allows for tunneling behind the breast to get to the muscle while only minimally disrupting the milk ducts.

---
Tunnel
The tunnel made for implant insertion from the breast crease incision goes beneath the breast tissue, causing minimal disruption of the milk ducts. At The Center for Cosmetic Surgery, our plastic surgeons believe that tunneling behind the breast rather than through it reduces the risk of infection and capsular contraction, which may require revision surgery.
---
Implant Placement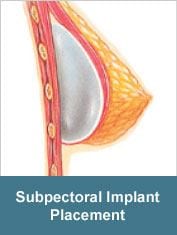 Breast implants can be placed subpectoral (beneath the pectoralis muscle) or subglandular (in front of the pectoralis muscle). There are several advantages to placing the implants beneath the muscle:
The extra coverage of the implant in the upper portion of the breasts assists in achieving a more natural contour and appearance.
Visible rippling in the upper pole of the breast is significantly reduced.
Implant palpability is less likely with implants positioned behind the muscle.
There is maximal preservation of the nerves that supply nipple sensation.
There is evidence that capsular contraction (heavy scar tissue forming around the implant) is reduced.
There is less interference with mammography because the implant is partially separated from the breast tissue by the muscle.
Will I Have a Noticeable Scar After My Breast Augmentation Surgery?
Our surgeons take special care to place breast augmentation incisions where they will be hidden or inconspicuous, such as in the breast crease or along the border of the areola. In most cases, the incisions become very thin and fade within about 2 years.
How Is Breast Augmentation Performed?
A breast augmentation takes about one hour to perform. The pockets for the implants are delicately and precisely created behind the natural breast position. Then, the implants are placed, and the small tunnel and skin are sutured closed. Even with the most meticulous methods used, the surgery does not require more than one hour to complete.
How Much Does Breast Augmentation Surgery Cost?
The cost for breast augmentation procedures at our Denver practice depends on a variety of factors, including:
Choice of breast implants
Surgical technique
Whether it is combined with other procedures
You will be provided with a personalized estimate for your procedure when you come in for your consultation with one of our plastic surgeons. Our financing options can be helpful for qualified patients if desired.
Can I Get a Nipple or Areola Reduction as Part of My Breast Augmentation Surgery?
Absolutely. Because the nipples and/or areolas often become stretched and enlarged with pregnancy, breastfeeding, and weight gain, many women have them reshaped during their breast enhancement surgery.
What Is Breast Augmentation Recovery Like?
The recovery from breast augmentation is faster and simpler than most people initially expect. Soreness mainly stems from implant placement behind the pectoralis muscle, but it dissipates rather quickly over the first few days. Most people are off of pain medication within 1 to 5 days. After this, returning to work at a non-strenuous job is permitted, as are driving and normal activities that don't require exertion.
The aesthetic recovery can be an evolution. Some patients' breasts look terrific and natural directly after surgery, while others need some time for the lower pole breast skin to relax and allow the implants to drop into a more natural position. This can vary from a few weeks to even a couple of months. Either way, the breasts will look great in clothes, a dress, or even a bikini right after surgery.
Finally, precise, fine-line scars are placed in the most inconspicuous location possible, but they take up to 2 years to fade completely. At The Center for Cosmetic Surgery, Dr. Vath, Dr. Wolfe, and Dr. Steinwald perform any scar revisions at no cost in the rare event it is helpful in achieving an improved, thinner, flatter scar appearance. The color of a scar is determined by the individual genetics of the patient, and only time can allow for fading of this color. Scars creams and topical therapies such as silicone sheeting can help reduce the thickness of a hypertrophic or keloid scar, but these products actually offer no long-term benefit in normal scar appearance as compared with time.
FAQ
Just the Facts About Breast Augmentation
There are a lot of myths and misconceptions about breast augmentation, but these 4 key facts should help you get past the hype.
1) FACT: Breast implants do not improve the shape of sagging breasts.
---
2) FACT: Silicone gel implants are not dangerous.
---
3) FACT: Round implants achieve a natural contour.
---
4) FACT: Breast massage after surgery may reduce capsular contraction.
5 Keys to Successful Results
Our surgeons have recognized a few factors that successful breast augmentation surgeries have in common. These are among their top priorities when they begin any new case.
1) The implants are placed precisely behind the natural breast position.
---
2) The implants are placed behind the pectoralis muscle.
---
3) The implant diameter matches your natural breast diameter.
The best breast implant choices for each woman are those that have a diameter that matches the full width of her natural breast base. Implants that are too narrow fail to take full advantage of the breast width and fall short of creating the best shape possible. Implants that are overly wide extend too far to the side and detract from the overall breast aesthetics.
---
4) The scar is hidden and inconspicuous.
The scars from breast augmentation should be nicely hidden. The inframammary scar should be placed within or slightly above the breast crease so that it is covered by a bra or bikini. Over time, once faded, scars should be imperceptible naked. Alternatively, if the periareolar scars are chosen, they should hide nicely at the precise edges of the areolae so the eye does not pick them up.
---
5) A breast lift is performed when necessary.
Breast implants do not lift breasts, nor do they help "hold up" breasts undergoing a lifting procedure. Implants will create larger breasts and fill deflated upper poles. A breast lift serves the purpose of improving the shape of sagging breasts. If a woman needs a breast lift and only has implants, the results will suffer considerably. It is critical that a mastopexy is performed when indicated to create beautiful breasts.
Back to Top