See Our Patient Results
The Center for Cosmetic Surgery
725 Heritage Road #100
Golden, CO 80401
Phone: (303) 278-2600
Monday-Friday: 8 a.m.-5 p.m.

The Center for Cosmetic Surgery
501 South Cherry Street #900
Denver, CO 80246
Phone: (303) 951-2100
Monday-Friday: 8 a.m.-5 p.m.

Case #508
*Keep in mind that each patient is unique and your results may vary. Photos in our online gallery are of actual patients of our practice who have provided consent to display their pictures online.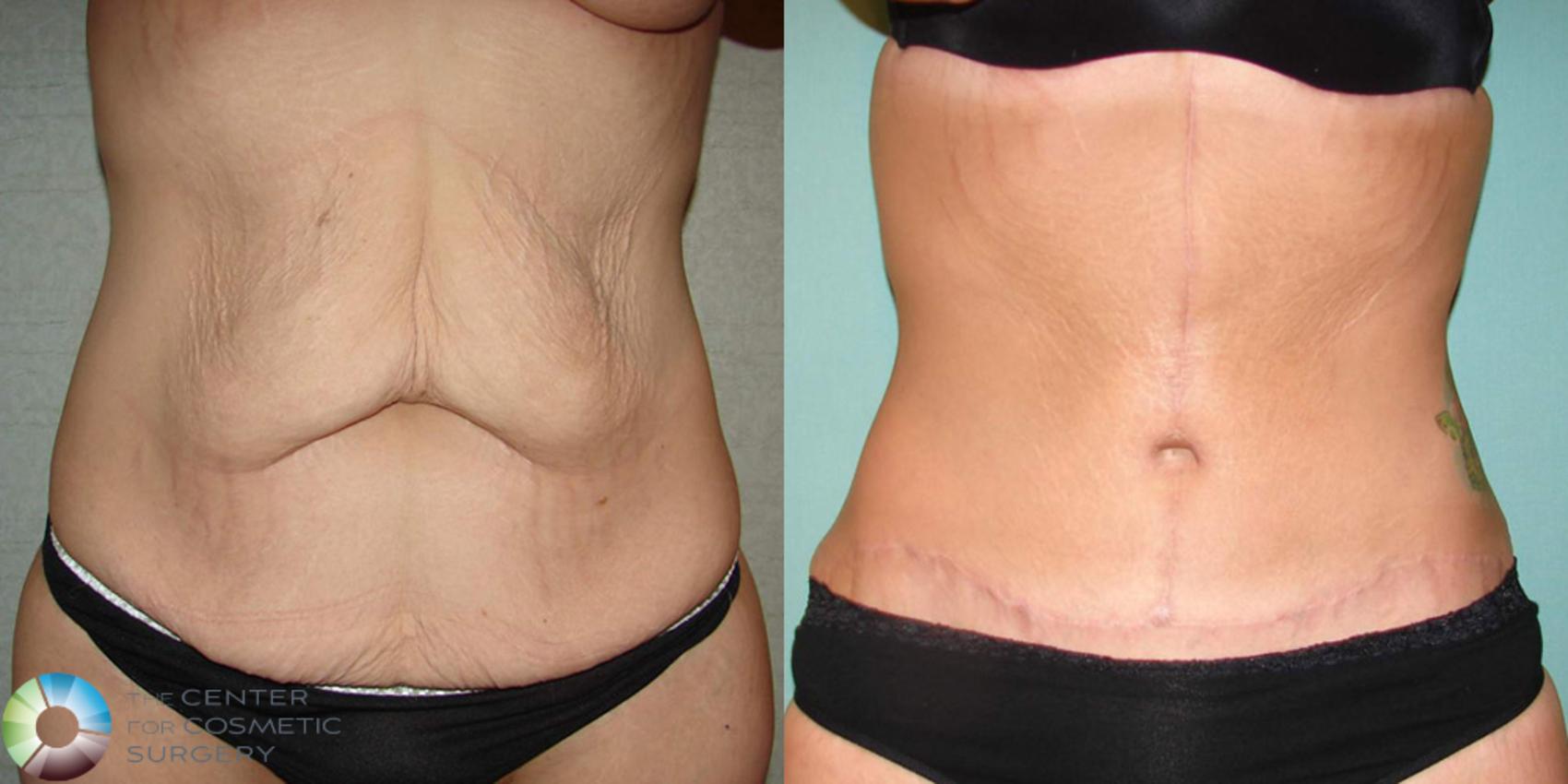 BEFORE / AFTER

This 28 year-old female from southern Wisconsin had undergone massive weight loss via natural methods from a maximum of 275 pounds. She came to see Dr. Steinwald to inquire about potential procedures to address the significant skin laxity persisting in her abdomen, arm and thigh areas. She had had one child via C-section, and currently was at a stable weight in the 150-165 pound range.
Upon examination it was apparent that she had a significant excess of skin in her upper arm and underarm areas, leading to a so-called "batwing deformity", which generally requires a "brachioplasty", or excision of skin and fatty tissue (as opposed to liposuction). She also had a fair amount of redundant abdominal tissue, including in the upper abdominal regions, which I advised would require an "extended, or Fleur de Lis, abdominoplasty", with a vertical incision to tighten the upper abdomen as well. Her thighs were amenable to a formal thigh lift, but we decided that it may be unsafe to plan surgery for more than 6-7 hours, and that this procedure should be staged.
She indeed underwent an extended abdominoplasty and bilateral brachioplasty under full general anesthesia in under 6 hours, which she tolerated quite well. She was amazed at the significant recontouring of her upper arms, as well as the extreme flattening of her tummy. Her edema resolved quickly and she had no wound healing problems (photos are from approximately 1 month post-op).
If you have lost a significant amount of weight (generally more than 100 pounds) via either exercise/dieting, or a gastric bypass, the Denver area offers very few surgeons with the experience in post-weight loss body recontouring that the Center for Comsetic Surgery in Colorado and Dr. Steinwald can offer. Once you are at a stable weight and are motivated to live your life in your new, slimmer body, we encourage you to call for your consultation today.
Back to Top