Seeking advice from a cosmetic expert? Be prepared by creating your vision and putting your ideas into words. Defining your goals prior to the initial consultation will keep you from forgetting your questions, save time, and help you and the surgeon get on the same page.
The consultation process varies as each Plastic Surgeon has his/her own style. Some surgeons may meet with you in their office and then move to an exam room, while others may have you meet a member of their staff first and then usher you into an exam gown after the initial "hello". The process of showing your body to a complete stranger, no matter what kind of guru they are, can be nerve-racking, throwing you off track. Following these easy steps to honing in on your goals and defining your aesthetic vision will keep you on track in and out of the exam room.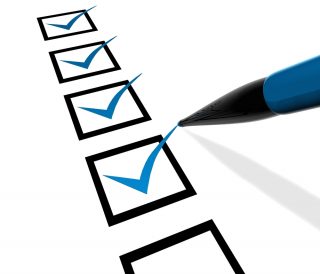 Dream and Define What Changes You Want to See in Your Body
Give yourself some time to dream. Close your eyes and envision what you want to see after surgery. Is the bridge of your nose smooth? Do your inner thighs finally have distance between one another? Are you now wearing a button down shirt to work and looking fabulous? Jot down what you want to see improve in your area(s) of concern.
Take time to put your thoughts into words
You may have a picture of what you want however, put your thoughts into a sentence that makes sense. Patients fumble to describe how much of a breast increase they want. This happens mainly because they have never been asked to describe what they want before the consultation. It's best to verbalize this in terms that are relatable. Such as: cup size, large increase vs. small increase. What is described as "natural" by one person may be totally unnatural to another. It is best to say, I am looking for a less "noticeably" different breast increase rather than I want to be "naturally" bigger.
Use Adjectives When Describing the Look You Desire
If you are consulting for a Rhinoplasty, use adjectives to describe the nose of your dreams. Cute, smaller, sloped, striking, edgy are all decent adjectives that help describe the look you are trying to achieve. Proper adjective selection helps describe breast size as well. When a patient says she wants a "sporty look", most Plastic Surgeons will realize she wants something in the small range. Or, if a patient says I want "Kardashian curves," the surgeon knows voluptuous is her style of choice.
Find and Save Pictures
Pictures do say a million words. Showing a few pictures to the surgeon will communicate your style and desired look. Pinterest boards are such a great way to collage your vision. It is also an easy way to access photos during a Consultation.
Showcasing a few pictures will give the surgeon a chance to speak truthfully about whether your goal is achievable on your frame.
Write Down Your Questions
This may seem like a no-brainer. However, it is easy to become forgetful when you are gathering new information in one sitting. The consultation is an interview. You are determining whether you feel comfortable, and if you like the surgeon and the people working in the practice.
Examples:
What does the recovery process look like?

How long will it take for the incisions to heal?

How long does the surgery take?

What are the extra costs outside of the quote?

How many follow up appointments will be needed?

When will I meet with the surgeon again?

Who is my point of contact?

Is the surgery performed in a hospital or outpatient facility?
The online community, realself.com, is also a great place to research and interact with other people who are considering or have already had cosmetic procedures.
Employing these tips will help make sure that you and your surgeon and on the same page with your vision for the new and improved you.
Kari White
Patient Counselor