Planning a breast augmentation with implants in the Denver, CO, area? It's normal to feel a bit nervous or uncertain about what lies ahead, but knowing what to expect each step of the way can make all the difference.
To help you feel prepared and excited for your journey, we've put together this step-by-step guide to breast augmentation from start to finish. Read on to get an inside look at what getting breast implants is really like, from choosing a surgeon to enjoying your results.
Choosing Your Plastic Surgeon
The first step in your journey is to find the right surgeon. As you look for the best breast augmentation surgeon in Denver or throughout Colorado, here are a few qualifications to keep in mind:
Board certification: Your surgeon should be certified by the American Board of Plastic Surgery and ideally be a member of societies such as The Aesthetic Society or the American Society of Plastic Surgeons.
Glowing reviews: Past patients should have great things to say about the practice in their reviews and testimonials.
Impressive before-and-after photos: The pictures you see in a surgeon's breast augmentation before-and-after photo gallery should reflect the caliber of results you're hoping to achieve.
Once you've found a surgeon you'd like to meet with, your next step is to schedule a consultation to discuss your goals in person.
Designing Your Look
Your consultation is your opportunity to get to know your surgeon one-on-one. It's also the exciting moment when you get to design your dream results.
We use VECTRA® 3-D Imaging during breast augmentation consultations to help you visualize your predicted results and virtually "try on" different implant sizes. As you discuss your options, your surgeon will walk you through ways you can customize your results, including:
Material: Choose between silicone or saline, depending on your age, budget, and lifestyle.
Size: Find a size that enhances your curves and suits your natural proportions.
Placement: Our surgeons typically recommend placing implants behind the chest muscle.
Learn more about how to choose the right breast implants for your lifestyle in this blog post.
During your consultation, you'll also have plenty of time to ask questions, explain your goals, and learn more about costs and financing options. Once you're ready to take the next steps, your patient counselor will schedule you for the big day.
How Much Does Breast Augmentation Cost?
The cost of breast augmentation varies based on several factors, including the type of implants used, your surgeon's expertise, and your geographic region. We will provide you with a personalized estimate for your surgery when you come in for your breast augmentation consultation.

Attending Your Pre-Op Appointment
Before you're ready for your procedure, your medical team will make sure you're cleared to undergo surgery safely. It's important that you are in good general health and not actively smoking or using nicotine products.
Your pre-op provider will discuss your current health standing, including any medications you're taking and the results of any requested labs, to make sure you're in good shape for surgery. They will write prescriptions for post-op pain medications so you can fill them ahead of time and have them ready on the big day. You'll talk through the details of what to expect on the day of surgery, including how to prepare and check in for your procedure.
Checking In for Surgery
On the morning of your surgery, you'll check into your surgical facility. For our patients, that's the AAAHC-accredited Apex Surgical Facility in Golden, CO. Our surgeons work only with board-certified anesthesiologists, who will place you comfortably under general anesthesia and monitor you from start to finish.
Breast augmentation typically takes about an hour to perform. Your surgeon will start by making your chosen incision and creating a pocket within the breast. After carefully placing the implant in the pocket and making sure your results look ideal, your surgeon will suture your incisions closed with stitches designed to minimize scarring.
Recuperating at Home
Breast augmentation is an outpatient procedure, so you'll return home the same day. You'll need a trusted loved one to drive you home and stay with you for the first 24 hours. We'll send you home wearing a surgical compression bra that reduces swelling and helps results take shape.
It's normal to feel some tightness and soreness in the breasts during the first few days. However, your prescriptions will easily manage any discomfort. Most women transition to over-the-counter painkillers within about 5 days.
While you won't be able to resume your usual workout routine right away, staying lightly active is excellent for your circulation. Try short walks around the house and gradually build up your movement as feels comfortable.

How to Sleep After Breast Augmentation
You'll need to sleep on your back in a reclined position for about a week after your surgery. This position keeps pressure off your implants and minimizes swelling. Try sleeping in a recliner or propping up your upper body on a few pillows. Fatigue is common during this first week, so focus on getting plenty of good sleep. After this initial period, you can resume sleeping on your side.

Resuming Your Routine
If your job is nonstrenuous and involves mostly desk work, you'll be able to return to work about 5 days to a week after surgery. You may need more time if your job is physically demanding, especially if it involves upper body lifting.
You can slowly resume your normal workout routine between 3 and 6 weeks. It's important to listen to your body as you do so and try not to push yourself too hard. Incisions typically take about this long to heal completely, so you can return to swimming at this time as well.
Most women opt to wear surgical bras for about a month before transitioning to standard bras. Sports bras and other supportive, non-underwire garments also work well to compress the breasts and prevent irritation along your incisions.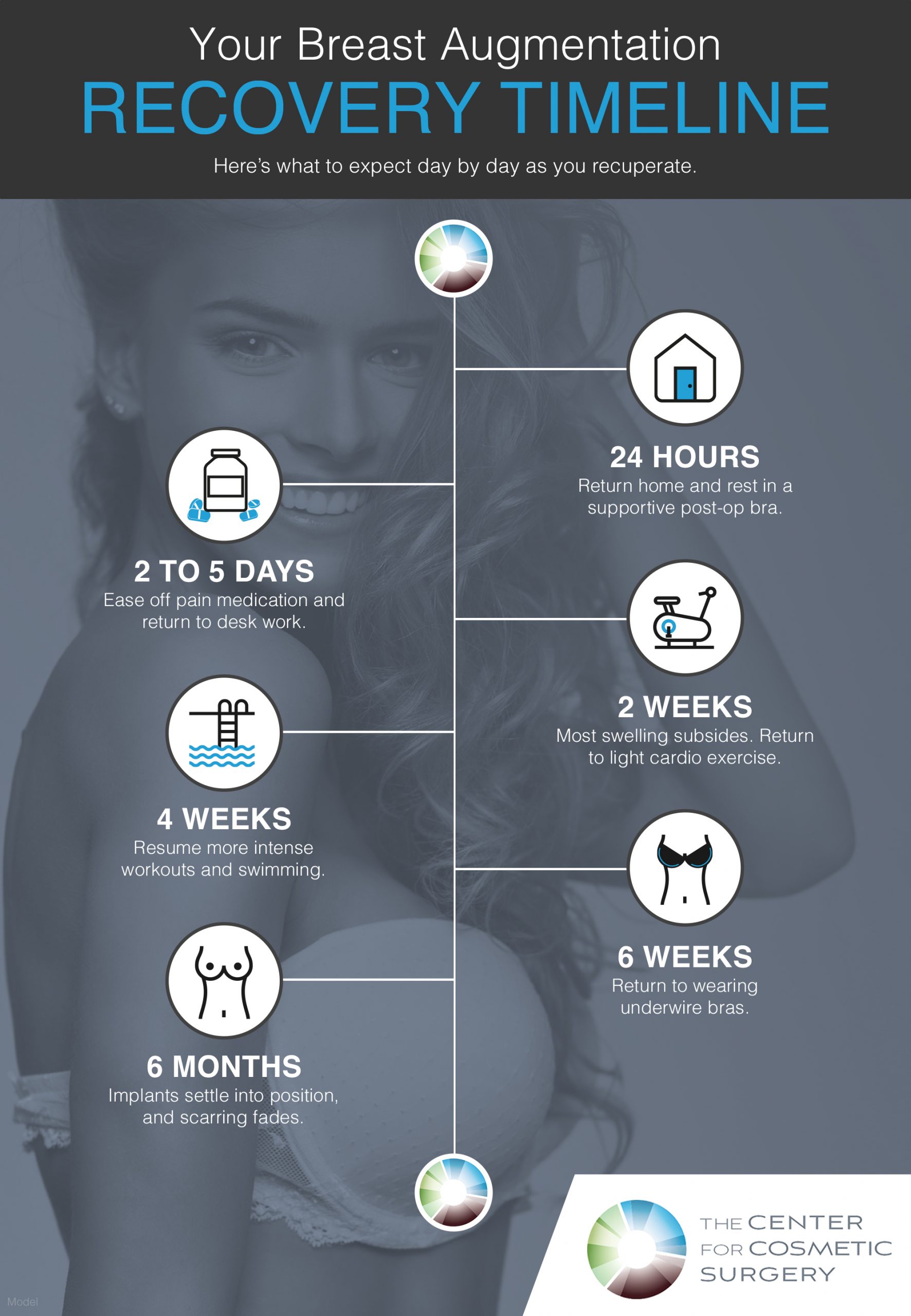 Enjoying Your Results
Your implants will likely look great right away, but it can take between a few weeks and a few months for your final results to take shape. Over this time, your implants will "drop" or "settle" into place and develop a softer look and feel. It's best to wait about 6 months before assessing your final look.
While there is no definitive timeline as to how long breast implants last, it is important to note that they are not lifetime devices. Most women enjoy their results for 10 to 15 years before they feel ready for revision surgery to update their results or replace their implants with newer models.
Your next step is simply to enjoy looking and feeling like the very best version of yourself. In a survey published in Plastic and Reconstructive Surgery, 91% of women reported increased self-confidence after breast augmentation, with 64% reporting a better quality of life overall. Your breast augmentation journey may be complete, but your new chapter is just beginning.
Ready To Get Started?
If you live in the Denver, Golden, or Colorado Springs areas and would like to learn more about breast augmentation with implants, please give us a call at (303) 278-2600 or request a consultation online. Our board-certified plastic surgeons look forward to bringing your dream look to life.