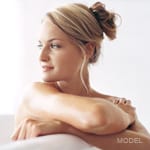 It happened just the other day. You caught a glimpse of yourself in your car's rearview mirror and saw them: unmistakable lines across your forehead. At first you reminded yourself to stop squinting in the bright Colorado sun. Then you looked more closely and rubbed your fingertips across your brow. Bright sun or not, there's no question about it. Those lines are wrinkles, they're noticeable, and they're making you look older.
We're accustomed to thinking that muscle action is good, but in the case of facial muscles there's another side to the story. Instead of having a desirable effect, facial muscle movement causes wrinkles. Dynamic wrinkles, to be exact, like the lines on your forehead. As your muscles respond to your emotions and create facial expressions-such as a worried frown or a look of surprise-the creases they make eventually stay put. Combine repetition over time with your skin's normal, gradual loss of elasticity and you eventually end up with deep dynamic wrinkles.
At Rejuvenate!, we offer several treatments to greatly reduce or even eliminate your deep forehead creases. To get started, set up an appointment with us today. We'll work with you to develop a strategy to match your schedule and budget.
A New Wrinkle for Denver Clients: BOTOX® Cosmetic and Beyond
To treat forehead wrinkles, we utilize a comprehensive approach that works inside and out. Some elements improve the skin's surface layers, renewing youthful skin tone. Others work underneath the surface to address the problems that cause wrinkles to form. This end-to-end method will have you looking like you never had a reason to frown.
Now that you've come face to face with your forehead wrinkles, don't wait any longer to banish them. Increasingly popular, BOTOX Cosmetic, Dysport, dermal fillers, chemical peels, and microdermabrasion can make a dramatic difference in your looks with just a few short appointments. Each treatment is nearly painless, offers quick results, and causes little time away from your schedule.
Set up your visit to Rejuvenate! by giving us a call today at (303) 278-2600. As you get to know us, you'll discover many benefits in working with the physicians, nurses and skin specialists on our staff. We're interested in building rewarding, long-lasting relationships with our clients built on honesty and mutual trust. We'll educate you about the results you can expect from medical spa treatments, and if more dramatic improvement is needed now or in the future, we'll share information about mini brow lift and eyelid surgery.
Visit us at our two offices conveniently located to serve the entire Denver metro area. One is located just outside of Denver in lovely Golden, Colorado immediately off of 6th Ave westbound and the other is located downtown in Cherry Creek, Denver. We look forward to working with you.