Breast Implant Revision Before & After Case 503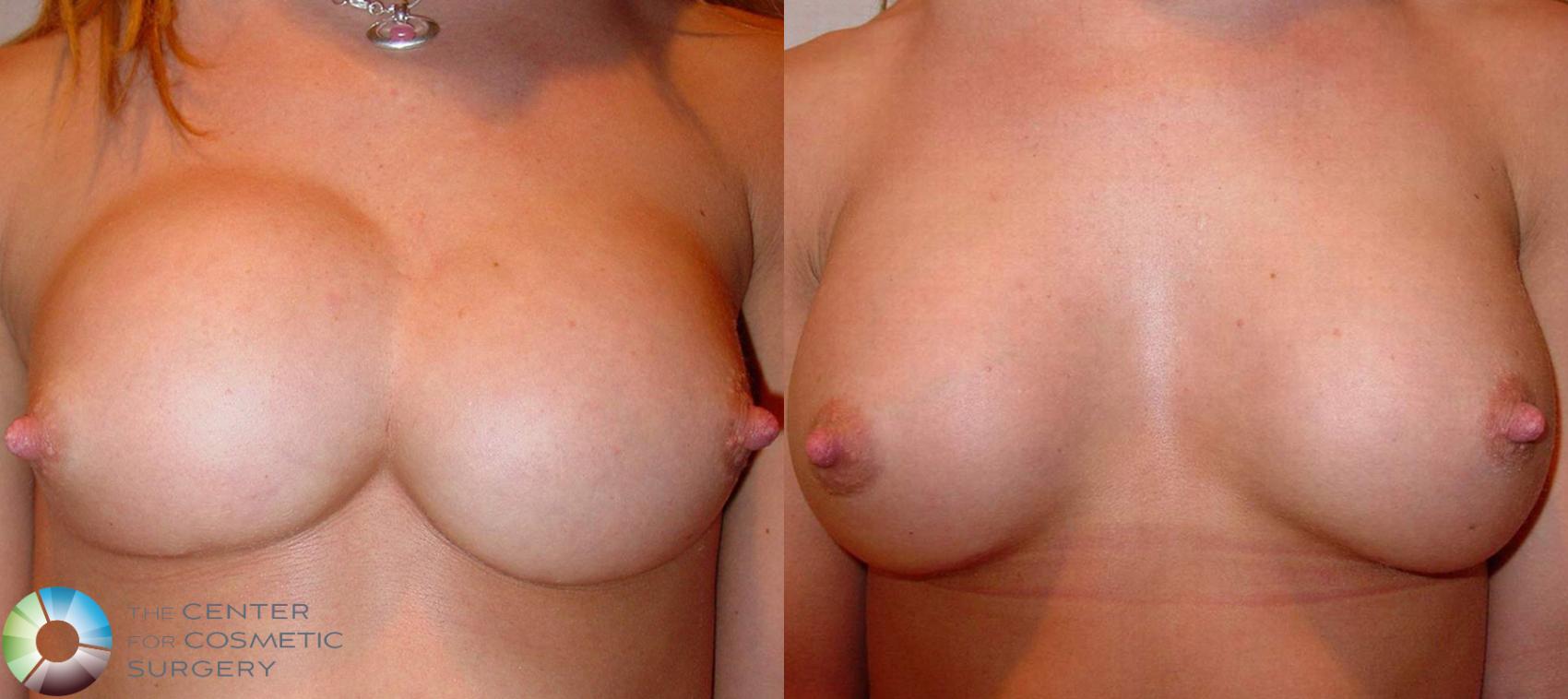 BEFORE / AFTER
This 23 year-old female had undergone a breast augmentation at another local plastic surgeon's office several years prior, which progressively led to a very bizarre contour irregularity characterized by implants that were too close together, nipples that were laterally displaced, and a bridging effect between the breasts termed "symmastia." The implants were saline implants that had been placed below the breast tissue only (or "subglandularly"), and the pockets had been overdissected near the midline. She was understandably distressed, and definitely in need of corrective (secondary) breast surgery.
In consultation, we decided that she would be best served by removing the current implants, tacking down the mid-chest tissue over the sternum (from underneath), and creating new submuscular pockets to further separate the new, slightly larger saline implants (as well as provide more natural tissue coverage). This indeed was successfully performed as planned under light general anethestia as an outpatient.
The patient was amazed at the immediate improvement in her breast contour, her quick recovery, and the fact that the nipples remained centered over the implants. Most importantly, the correction was stable and long-lasting (photos are from approximately 7 months post-op.) If you are a patient who has had breast surgery before (with or without implants), and have suffered a rupture, capsular contracture leading to discomfort and distortion, or malposition/contour irregularities (or you simply are interested in exchanging saline for gel implants, as many women in he Denver area have decided to do recently), perhaps corrective breast surgery with the expertise available at The Center For Cosmetic Surgery is for you. Just call 303278-2600 to schedule your confidential consultation soon.
Procedures Performed
About This Patient
View All Patient Photos
*Keep in mind that each patient is unique and your results may vary. Photos in our online gallery are of actual patients of our practice who have provided consent to display their pictures online.