The day after my
breast lift with augmentation
surgery at the Denver-based Center for Cosmetic Surgery, I removed my bra in front of the mirror before a shower. I couldn't help but feel anxious to see the results from my surgery. The shape was better than I had imagined. The lower pole of my breasts was finally round and perky. I had soft fullness up top and great cleavage in my bra.
"I looked great and felt great."
The two long, saggy, worn-out boobs that had become haggard from pregnancy weight gain and loss, followed by breastfeeding 2 children, were gone. I mean to say, not a trace of those "grandma" boobs existed upon my 34-year-old frame!!! Hurray! Hurray! My breast shape finally resembled my age and the symmetrical aesthetic I had always wanted. At my post-operative visit, it was hard not to give my surgeon a big smooch on the cheek after he had performed such amazing work. I was on cloud nine. After a week, I was back at work. My energy came back after about 2 weeks. No one would ever know I had breast surgery! I looked great and felt great. However, after 4 weeks, my excitement oddly changed for the worse. Roughly 4 weeks after my breast surgery, it was time for the Steri-Strips to be removed. When your breast surgery is complete, the surgeon will cover the incision sites with Steri-Strips. They are thin, soft, gauze-like tape that adds pressure and support to the incisions during healing. The Steri-Strips had masked my breast lift incisions for several weeks.
"It was a lot to take in at first."
Although I had seen other women post-breast lift surgery, I wasn't prepared for how I would feel seeing those same
anchor lift incision patterns
on my own body. It was a lot to take in at first. I wasn't mentally prepared to feel uneasy about the bright pink incisions. To be honest, I felt like Frankenstein's bride. Not because the incisions were gruesome, jagged, or abnormal; they were actually smooth, straight, precise, and bright pink. My brain had blocked out the incisions because they were covered for a good part of a month. Out of sight, out of mind. Somehow, I had forgotten that I would actually have scars that needed to heal.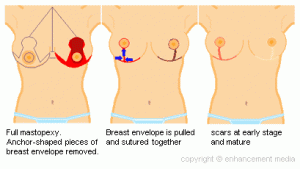 My doctor gently reminded me that my breast shape was attractive and re-iterated that the scars would fade over time. He was right. The scar tissue needed time to soften, flatten, and fade. It takes 12 to 18 months for a scar to begin to fade. Slowly, I began to understand that healing is a process; a journey, if you will. My mind and body went through a range of emotions and healing blocks. I now know this was normal. However, at the time, I didn't feel normal with the contrast of emotions ranging from elation to dissatisfaction.
"Time is your friend."
It is human nature to want a quick fix. I sure wanted one! The body will heal on its own—at its own pace. Scars are a natural part of the healing process. Surgical technique, genetics, and skin tone play a huge role in scar quality. All 3 of the aforementioned are out of our control. What I found to be the best advice while I was healing is the quote, "Time is your friend." For an impatient person like myself, this idea was a foreign concept. But it soon became my mantra. After about a year post-op, I realized that I hadn't thought about my scars lately. They had faded to a light pink and then to a lighter skin tone. After 4 full seasons, I finally arrived at a place where I didn't get into my head about looking into the mirror. The support from The Center for Cosmetic Surgery was awesome. They eased my fears throughout the recovery and reminded me that the pretty breast shape after a breast lift far outweighs the time it takes for the scars to heal. With all of that said, I have a light complexion and blue eyes. Healing time can vary, based on your skin tone and overall health. Be sure to stay current with your post-surgery appointments, so your surgeon can monitor your incisions and scar quality over time. Silicone sheeting, BioCorneum silicone gel, and steroid injections can improve scar quality in cases where scars are slow to flatten and lighten.    — LR, TCCS Patient According to
RealSelf
, 95% of women say breast lift surgery is worth it. You can see why as you browse through more of our patients' before-and-after photos in our
breast lift photo gallery
 and get answers to your most commonly asked questions in our
breast lift FAQ
. Contact us
online
or call us at (720) 279-1926 (Golden, CO) or (303) 951-2100 (Denver, CO) to schedule a personal consultation. We'll be happy to answer all your questions and concerns regarding breast lifts or any other procedure.