You will have many decisions to make when undergoing breast augmentation, and one of the decisions your plastic surgeon will discuss with you is the type of incision they will make. They will explain the advantages and disadvantages of each incision option so that you can achieve a safe and satisfactory outcome from your procedure.
The four most commonly used breast augmentation incision options are: inframammary (breast crease), periareolar (lower areola), transaxillary (armpit), and transumbilical (bellybutton). This post reviews the pros and cons of each one, explains our board-certified plastic surgeons' preferred incisions, and provides a handy infographic reference.
Breast Crease
The inframammary incision is the most frequently chosen approach. Its many advantages include:
The resulting scar is inconspicuous after it fades.
It provides an extremely reliable, safe means of accurately inserting breast implants.
The tunnel made for implant insertion causes minimal disruption to the milk ducts.
Our plastic surgeons believe that tunneling behind the breast rather than through it reduces the risk of capsular contracture and infection. Browse our before-and-after gallery to see the type of results our breast augmentation patients enjoy.
Lower Areola
The periareolar incision creates a nicely hidden scar at the border of the areola. This approach may not be feasible for patients with small areolae using larger silicone gel breast implants.
During this technique, a tunnel is made through the breast tissue in order to place the implant behind it. (Learn why our plastic surgeons prefer to place breast implants behind the chest muscle in this blog post.)
Occasionally, upon pectoralis (chest) muscle contraction, patients can get puckering of the scar from the muscle pulling on the healed tunnel attached to the scar. Nonetheless, the periareaolar incision can be an excellent choice for some patients.
Underarm & Bellybutton Options
The transaxillary and transumbilical approaches are generally not recommended for silicone implants due to the risk of injuring the integrity of the shell during insertion. The underarm scar can be noticeable in some patients when they raise their arms in a tank top, dress, or swimsuit. These approaches sound attractive due to the avoidance of a breast scar. However, the inframammary and periareoalar approaches are considerably more prevalent because of their reliability, predictability, and extremely well-tolerated, hidden scars.
Our infographic below outlines these breast augmentation incisions.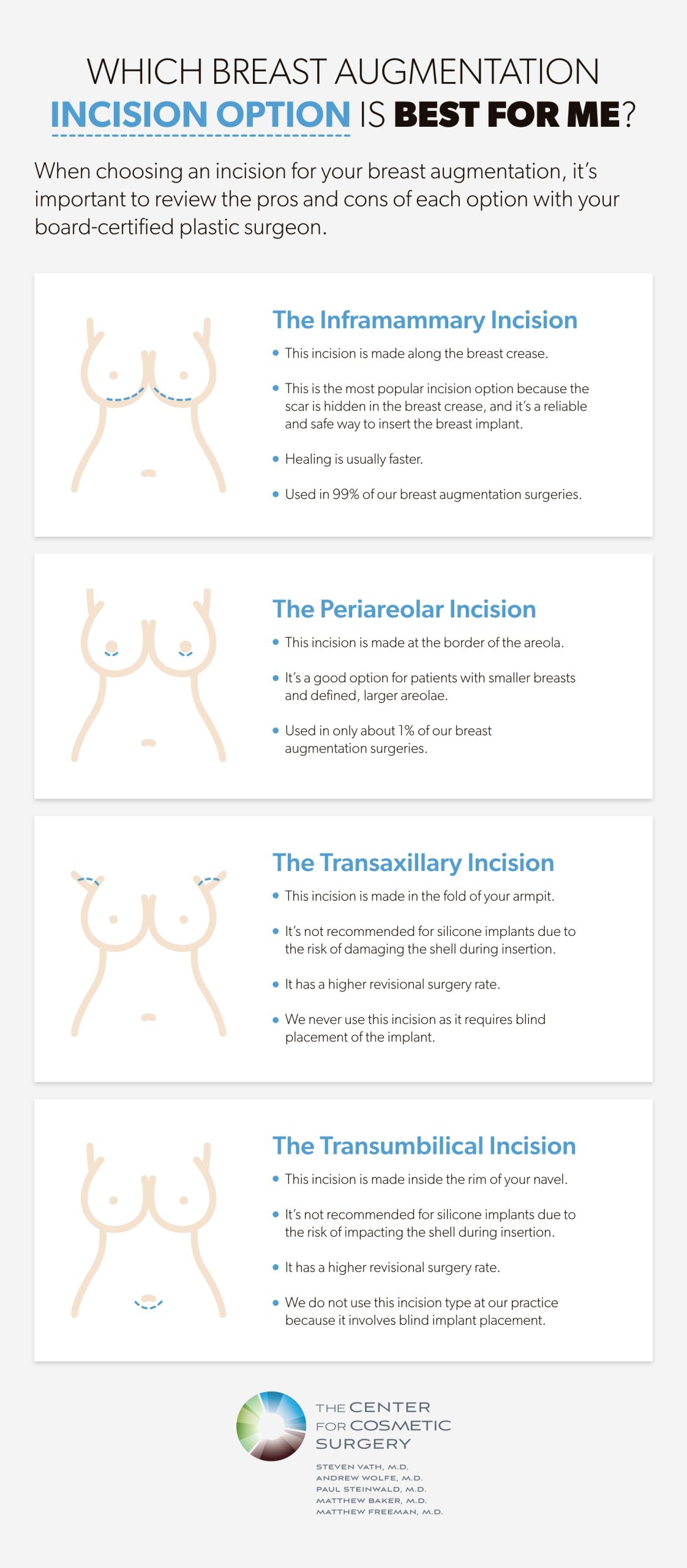 When choosing an incision for your breast augmentation, your plastic surgeon will consider the placement of the incision, potential scarring, and recovery time needed. An experienced board-certified plastic surgeon can advise you on the incision that will give you the best results.
To learn more, request a consultation using the online form or call us at (303) 278-2600 to schedule an appointment.