CoolSculpting®
CoolSculpting is a recent, revolutionary advancement in the world of body contouring, offering men and women a comfortable, non-surgical option for addressing stubborn fat deposits that don't respond to diet or exercise. At The Center for Cosmetic Surgery, our plastic surgeons recommend CoolSculpting to Denver patients in search of liposuction alternatives that don't require surgery, anesthesia, or a lengthy recovery. With FDA-cleared CoolSculpting, unwanted fat is frozen and naturally flushed away by the body. In adults, fat cells that have been removed don't regenerate, so the effects of this procedure can be enjoyed for many years by simply maintaining a healthy lifestyle.
What is CoolSculpting?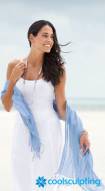 CoolSculpting is an FDA-cleared body contouring procedure that doesn't require surgery, anesthesia, or downtime. In a single 1-hour session, stubborn fat is frozen, effectively killing it. Over the course of several months, the fat cells are naturally expelled by the body, revealing a more streamlined physique. CoolSculpting is a great option for reducing fat deposits in many areas, including:
Thighs

Abdomen

Hips

Waist

Back

Neck
Following a CoolSculpting treatment, most patients are able to resume their regular activities immediately. With good diet and exercise habits, the results of CoolSculpting may be maintained for many years.
Check out our Rejuvenate website to learn more about what you can expect from CoolSculpting.

Who is a good candidate for CoolSculpting?
Like liposuction at our Denver practice, CoolSculpting is not a weight-loss solution for patients who are significantly overweight. Instead, CoolSculpting works best on people who are already near their ideal weight but are bothered by the presence of localized fat deposits in areas such as the abdomen, muffin top, back, hips, and thighs. CoolSculpting targets only fat cells so the surrounding healthy tissue isn't damaged or affected — and there's no need for anesthesia or recovery time.
What are CoolSculpting treatments like?
During a CoolSculpting session, the fat you wish to address is drawn with vacuum suction between 2 specialized cooling panels. Once activated, the panels deliver intense cold to the targeted fat. Because fat cells freeze at a higher temperature than other cells, the surrounding tissues and skin aren't affected. Patients report a slight pulling sensation and a feeling of numbing cold during this time. Each session lasts for about an hour, and for many people, 1 treatment is all that is needed to see a fat reduction of about 20% (although results vary).
Can I Combine CoolSculpting With Other Treatments?
Absolutely. The same company that developed CoolSculpting recently received FDA clearance for CoolTone™, a nonsurgical, non-invasive muscle toning procedure designed to improve the contours of the abdomen, buttocks, and thighs. Reducing fat and toning muscle is the key to getting the contoured shape you want. Add a skin tightening treatment, and the results can be transformational.
A Reputation Built on Results
So far so good. I'm still in the healing process but exited to see results once swelling goes down....
Dr. Freeman is an incredible surgeon and a great person. I feel so blessed to have had him as my surgeon.
Dr. Steinwald, and his team were amazing. So happy with my results. Tummy tuck scar so thin and belly...
Outstanding professionalism and personal attention from every member of the Center for Cosmetic Surgery...
What is recovery like after CoolSculpting?
Following a treatment, most patients feel comfortable returning to their normal activities immediately. Tingling, redness, numbness, bruising, and mild discomfort are possible and typically subside within a few days.
When will I see results after a CoolSculpting treatment?
Over the course of the next several weeks, the frozen fat cells begin to die naturally in a process called apoptosis. These fat cells are naturally flushed away by the body. Although some patients notice results as early as 3 weeks following a treatment, the most dramatic effects become visible after about 2 months. Results may continue to develop for up to 6 months. By living a healthy lifestyle, the results of a single CoolSculpting treatment can be maintained indefinitely.
Our Exceptional Plastic Surgeons
Our experienced plastic surgeons Dr. Steven Vath, Dr. Andrew Wolfe, Dr. Paul Steinwald, and Dr. Matthew Freeman lead our patient-centered practice with warmth, honesty, and respect.
Dr. Steven Vath
Dr. Andrew Wolfe
Dr. Paul Steinwald
Dr. Matthew Freeman