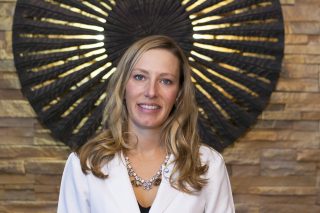 Since 2010, Brooke has been meticulously performing injectable aesthetic procedures such as botox and dermal fillers and has been nominated for Real Self's Most loved Injectors award . Brooke has the rare artistic awareness necessary to provide natural, genuine results and avoid an over-processed look. Brooke prides herself on her ability to personally connect with and listen to and understand the specific needs of each client.   Her honesty and passion for learning advanced techniques ensure that  her clients are receiving the latest and greatest to achieve their aesthetic goals.
On the surgical side of the practice, Brooke provides much of the pre- and post-op care and performs several minor surgical procedures including mole removals and earlobe repairs. Brooke thrives on helping patients on the road to recovery following surgery and helps to ensure our patients have a great experience with our office.
Brooke, a native of Breckenridge, CO. completed her undergraduate at the University of Colorado at Boulder and then attended Pennsylvania's Arcadia University. There she received both her Masters of Medical Sciences and her Physician Assistant degrees. In her free time, Brooke loves to ski, hike, travel and spend time with her husband, two young boys, and friends.